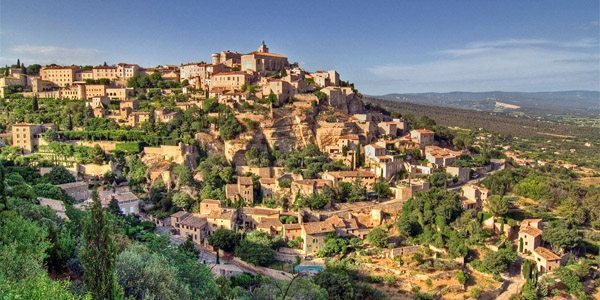 The Vaucluse region is arguably the most picturesque in Provence. Picture postcard vistas typical of Provence abound: Old Roman towns complete with Gollo-Roman arches, theatres, and narrow cobbled streets. Villages alive with markets brimming with colourful local produce, and some of France's most beautiful scenery made more alluring by the unique light on the rich hues of the lavender and vines. The whole area is dominated by Mont Ventoux (1,912 m), the highest peak in Provence and famed by the Tour de France as one of cycling's most challenging climbs.
The Vaucluse: Getting your bearings
The Vaucluse spreads north-east from Avignon, the region's capital. Orange, north of Avignon and west of Mont Ventoux, is famous for its Roman theatre and Provencal markets. Carpentras, towards the middle of the Vaucluse region on the banks of the Auzon also dates back to Roman times, but is famed for its ancient Jewish community and its winter truffle markets.
The Fontaine de Vaucluse (spring of Vaucluse) is an astoundingly beautiful spot built around a spring at the foot of the Vaucluse mountains. To the east you'll find the attractive Provencal villages of Gordes and Roussillon overlooking a fertile valley. Further east again (66 km east of Avignon) is the Roman town of Apt, a great base for exploring the Lubéron mountains.