ORGANISE YOUR TRIP | OUR FAVOURITE MTB RESORTS | FEATURED VIDEO | MOUNTAIN BIKING GALLERY
France is regarded as the ultimate destination for mountain biking in Europe. A reputation earned by the huge mountains, its laissez-faire attitude to danger and the sheer variety of terrain on offer.
The Portes du Soleil is undoubtedly the best known mountain bike area in France attracting riders from all over Europe with its dusty trails, endless lifts and legendary singletrack. But there's a lot more to mountain biking in France than Morzine and Les Gets.
For mountain bikers seeking less extreme gradient, France has thousands of kilometres of waymarked trails and authentic mountain towns with plenty of classic singletrack through stunning scenery. The best thing about mountain biking in France is that whatever your style of riding, whether XC, enduro or downhill, there'll be a destination to suit. So, if you haven't yet been, France should be well up there on your bucket list. READ MORE
---
ORGANISE YOUR MOUNTAIN BIKING TRIP
Once you've chosen the perfect destination for your ability and style of riding, you need to organise your accommodation, airport transfers, mountain bike hire and guiding. We've got your back. We work with the best companies in the industry to help you organise an unforgettable biking trip.
Check out the best mountain bike locations in the South of France for your next biking holiday.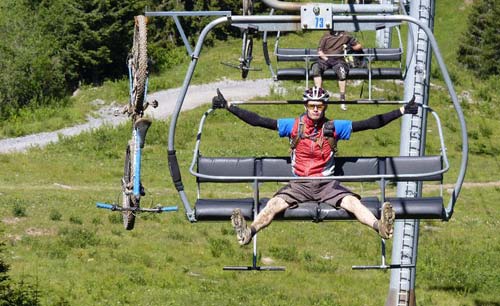 Mountain biking holidays in the French Alps, the South of France and the Pyrenees.
The best places to go riding in the French Alps, whatever biking style you're into.
Our airport transfers partners provide great value and reliable transfers to French Alps MTB resorts.
Miles of classic singletrack with fast flowy descents and technical tracks that criss-cross France's most famous valley.
Morzine is in the heart of the famous Portes du Soleil and offers superb riding including the legendary Pleney downhill track.
Where the Pyrenees meet the Atlantic, the Basque Country combines epic terrain with rich culture and spectacular scenery.
Tignes is situated high above the tree-line and known for its fast, open, rocky trails. The modern lift system is completely free!
With 8 downhill tracks, over 100 km of enduro trails and 3 dedicated cross country loops, Méribel has tons of great riding.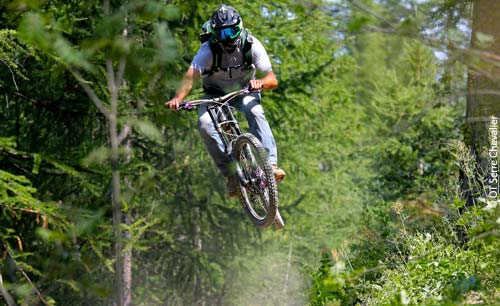 Serre Chevalier has hundreds of kilometres of dry trails, 300 days sunshine a year, and a huge variety of riding.
---
the MOUNTAIN BIKING
Similar to the grades in skiing, mountain bike trails in France use colour codes to tell you what to expect. Most trail centers have trails to suit all levels: green – novice, blue – beginner, red – intermediate, black – advanced. You'll get the most out of your mountain biking trip if you choose trails that are tailored to your ability.
There are plenty of fireroads and gentle trails for novice mountain bikers, but there's also fast, rocky downhill runs with jumps and berms for experts. If trails aren't graded, generally you can gauge the difficulty of the trail by the distance and altitude climbed, so it's down to you the rider to make the call as to the suitability of a trail depending on your ability, i.e. don't strike out on a 50 km loop over the Vercors plateau if it's been 6 months since your last big ride!
Mountain biking is well established in France, the FFC (Fédération Française de Cyclisme) together with local clubs have worked hard over the years to develop both the trail network and the signposting. The FFC is focused on improving and expanding the network of trails and as a result anywhere where there are hills, there are good cross-country mountain bike trails.
The thing to bear in mind about XC mountain biking in France especially in the French Alps and the Pyrenees is that the riding is on another level. There's no way you can get a measure on French mountains without visiting them. The sheer scale of the climbs you're expected to peddle up is astonishing. But the rewards of your hard work are equally mindblowing. Miles of fast flowing natural singletrack and epic descents over thousands of metres of vertical drop. Once you get a taste
Ski resorts have adapted their lift systems and trail networks to accommodate bikes in the summer months, and trail builders are constructing some really nice flowy trails aimed purely at putting a smile on your face. Freeride mountain biking is exploding in popularity with bike parks rivaling those across the Atlantic popping up in some of the bigger resorts.
Meanwhile, as more kilometers of trails are built, so the number of tougher, higher altitude XC rides increases. Having said that, mountain biking is much more of a mainstream sport in France than it is in the UK and mellow mountain biking for pure enjoyment is all the rage, with the sport's popularity boosted by high profile events like the Roc d'Azur, the Trans-Provence and the Megavalanche.
---
MOUNTAIN BIKING FRANCE INSTA GALLERY
Tag your Instagram mountain biking pics and clips @ultimatefrance to be featured here!
This error message is only visible to WordPress admins
Error: No posts found.
Error: Hashtag limit of 30 unique hashtags per week has been reached.
Please leave a comment below if you need specific advice for your mountain biking trip to France, or if you have any recommendations to help us improve this page. Happy holidays!