The French Alps – a world-class summer mountain biking destination!
Sunny trails, an incredible lift network and miles and miles of singletrack make the French Alps a hot-ticket mountain bike destination.
With regular flights to Geneva, Grenoble and Nice providing easy access to the resorts, you can often be riding the same day you fly. If you have more time, a drive down opens up the opportunity to string a few resorts together for an epic riding holiday.
The most popular mountain bike area in the Alps is undoubtedly the Portes du Soleil network of resorts which includes Morzine, Les Gets, Avoriaz, Châtel, Morgins and Champéry. All are great places to ride in their own right but when you group them together with one lift pass, the sheer amount of riding is unsurpassed anywhere in the world. If you're a more casual rider or you're keen to seek out some epic XC routes, there's plenty more choice throughout the French Alps with resorts such as Les Deux Alpes, Les Arcs and Chamonix all offering plenty of outstanding singletrack for both XC and downhill.
---
The Best Mountain Biking in the French Alps
This is box title
Haute-Savoie mountain biking
Haute-Savoie borders Switzerland to the north and Italy to the west and is home to the Mont Blanc, the highest mountain in the Alps, and some of the best known ski resorts in the French Alps. Experience the thrill of shredding down the mountains of the vast Portes du Soleil area, or ride the superb singletrack around world-famous Chamonix. Nearest airport: Geneva.

Situated in the heart of the Portes du Soleil, Avoriaz offers a rediculous amount of riding whether you're into XC or downhill. Gravity seekers can ride the national downhill course to the Linderets bikepark and from there take the chairlift to Châtel. Cross-country riders can seek out singletrack that loops high into the surrounding mountains.
Highest lift: 2277 m. Vertical drop: 1277 m.
Km of trails: 650. Best for: Downhill
---
Mountain biking in Chamonix is defined by the miles of classic singletrack with fast flowy descents and technical sections that criss-cross what is surely the most famous valley in the Alps. Dedicated mountain bike areas at Le Tour, Flégère, Brévent and Les Houches offer graded trails to satisfy all levels and riding styles. For more challenging terrain, head over to Vallorcine. The epic multi-day high-altitude bike trip the Tour du Mont Blanc starts and ends in Chamonix – ride 160 km and 8000 m vertical drop through 3 countries in 4 days.
Highest lift: 2400 m. Vertical drop: 1400 m.
Km of trails: Unknown. Best for: XC
---
A traditional Alpine village with some amazing riding accessible from both the Super Châtel gondola and Pré-la-Joux. Freeriders will love the slopestyle course and northshore at Pré-la-Joux while downhillers can easily spend a day sessioning the Super Châtel tracks or the more than ten graded trails at Pré-la-Joux. Plenty of grip in the dry but greasy as hell in the wet.
Highest lift: 1960 m. Vertical drop: 760 m.
Km of trails: 90. Best for: Downhill/Freeride
---
Get away from the crowds and ride unspoilt forest singletrack and fast, open downhill trails. The less extreme gradients in this mid-altitude resort mean you can really open it up on the fast sections without worrying about heavy breaking bumps. Plenty of jumps and northshore features bring a fun freeride element to the tracks.
Highest lift: 1900 m. Vertical drop: 800 m.
Km of trails: 196. Best for: Downhill/XC
---
A great base from which to ride the Portes du Soleil, Les Gets is in itself one of the premier mtb destinations in Europe. A dozen downhill tracks including the Grass Track with its superb jumps and berms give you plenty of riding for a few days. Plus there's the natural singletrack, secret trails and fast and fun traverses that cut across into Morzine.
Highest lift: 2002 m. Vertical drop: 830 m.
Km of trails: 80. Best for: Downhill
---
Morzine is in the heart of the vast Portes du Soleil mountain biking area with great trails easily accessible from the town itself, and also chairlift access to Les Gets and Avoriaz and the legendary Châtel and Champéry trails. Ride the fast and furious Pleney downhill track before striking out and hitting steeper, more technical terrain accessible from the Super Morzine lift.
Highest lift: 2277 m. Vertical drop: 1277 m.
Km of trails: 650. Best for: Downhill
---
The Grand Massif offers downhill, enduro and has impressive scope for some serious XC expeditions. The ride from Flaine to Sixt-Fer-a-Cheval, accessed from the Grandes Platieres cable car, is a must. Advanced riders will be tested to the max on the black Dré dans l'Pentu, a fun and technical track that requires commitment throughout, whilst bikepark enthusiasts will love the fast flowing blues and technical reds of Les Carroz.
Highest lift: 2480 m. Vertical drop: 1780 m.
Km of trails: 400. Best for: Downhill
---
This is box title
Isère mountain biking
The variety of biking terrain in Isère means it's easy to find a resort that caters for your riding style and level. Ride high-altitude rocky trails in Alpe d'Huez, made famous amongst mountain bikers for the unrelenting Mega Avalanche enduro, or choose the more mellow flowing singletrack in resorts like Vallard de Lans. Nearest airport: Grenoble.

With 35 graded trails dedicated to mountain biking, Alpe d'Huez is at the heart of one of the biggest mountain bike areas in the French Alps. A vast playground with a huge 2600 meters of vertical drop from the top of the 3300 m Pic Blanc down to the valley floor at Bourg d'Oisans. And don't forget, it's also home to the legendary Megavalanche downhill race.
Highest lift: 3330 m. Vertical drop: 2600 m.
Km of trails: 250. Best for: Downhill
---
The magnificent setting, quality of the tracks, and the sheer variety of terrain make Les 2 Alpes one of the most popular mountain bike resorts in the French Alps. The annual Crankworx bike festival has put the resort firmly on the mountain bike map. Ride more than 110 kms of downhill trails across 4 distinct areas, plus Whistler A-Line style freeride and tons of XC options.
Highest lift: 3200 m. Vertical drop: 2300 m.
Km of trails: 110. Best for: Downhill/Freeride
---
10. Mountain biking in Villard de Lans
Villard de Lans was home to the very first Mountain Biking World Championships back in 1987. Now, 9 downhill runs make maximum use of the 600 m vertical drop, whilst cross-country riders can avail of the 120 km of waymarked trails and strike out on rides over the Vercors plateau.
Highest lift: 1720 m. Vertical drop: 600 m.
Km of trails: 200. Best for: Downhill/XC
---
With enough riding to keep you entertained for a whole summer never mind a week's holiday, Les Arcs is one of the French Alps' best kept secrets. The resort seduces gravity seekers with a permanent downhill black run that's accessible for most of the season thanks to the Bourg-Saint-Maurice funicular. Plus there's the outstanding Villaroger singletrack and the excellent bikepark in Arc 1600.
Highest lift: 2600 m. Vertical drop: 1400 m.
Km of trails: 180. Best for: Downhill/XC
---
Incredible mountain scenery forms the backdrop to a huge variety of biking terrain. The 10-plus downhill tracks are beautifully kept, but it's the excellent cross-country riding that sets Courchevel apart from the other Valleys. Routes around Courchevel cater for all abilities but you need to be on form to tackle the Three Valleys 117 km loop, it's a killer!
Highest lift: 2738 m. Vertical drop: 1638 m.
Km of trails: 280. Best for: XC
---
Located in the Vanoise National Park in the French Alps about 200 km east of Lyon, Méribel is right in the heart of the 3 Vallées ski area, the world's biggest ski resort. With 8 downhill tracks, over 100 km of enduro trails and 3 dedicated cross country loops, Méribel has a bounty of biking opportunities.
Highest lift: 2952 m. Vertical drop: 1340 m.
Km of trails: 161. Best for: Downhill
---
14. Mountain biking in La Plagne
Bit by bit, La Plagne has got up to speed with the other big resorts and now has a decent bike park and some nice downhill tracks, two of which are outstanding – the run down Mio which spits you out at Bellecote and the run through the forest at Champagny. All in all though, La Plagne is more suited to cross-country and there are plenty of options for some epic rides.
Highest lift: 2739 m. Vertical drop: 2045 m.
Km of trails: 145. Best for: XC
---
With its fast flowy trails and ideal gradient for mountain biking, Sainte Foy has some of the best natural singletrack in the Tarentaise Valley, and all set to a spectacular backdrop. The Arpettaz uplift provides access to 10 waymarked trails, including 3 XC loops, 4 downhill/enduro trails and 3 easy family trails. Premiere Velo offer centre-based cycling holidays and MTB hire in Ste-Foy.
Highest lift: 2102 m. Vertical drop: 1211 m.
Km of trails: Unknown. Best for: Enduro/XC
---
Situated at the top of the Tarentaise valley, Tignes sits well above the treeline meaning most of the trails are wide open and rocky. The riding ranges from pretty mellow to unrelenting and steep. Don't miss the amazing Tarentaise Airline, a nice open blue run with easy table-top jumps and super-fast berms. And, freeriders will love picking lines down the Kamasutrail with its step–ups, ski jumps, road gap and hip jumps.
Highest lift: 2700 m. Vertical drop: 1450 m.
Km of trails: 102. Best for: Downhill/Enduro
---
Val d'Isère is a top ski resort in the winter but it's also a fantastic summer mountain biking destination. The Val d'Isère Bike Park together with the XC trails of the wider resort offer a huge range of great riding with something for everyone. This summer, Val d'Isère and Tignes join forces to offer mountain bikers a double dose of excitement. Plus, MTB access to the lifts is completely free of charge!
Highest lift: 2800 m. Vertical drop: 1450 m.
Km of trails: 150. Best for: Downhill/Enduro
---
A highlight in Valloire is the mesh of excellent downhill tracks accessible from the Crêt de la Brive gondola. Four red trails and four blacks snake down the mountain alternating between forest and open alpine terrain. If you like a challenge, the Mickaël Pascal signature downhill run drops 700 vertical meters in 3 kms and is sure to get the calves burning.
Highest lift: 2300 m. Vertical drop: 870 m.
Km of trails: 155. Best for: Downhill
---
French Alps Mountain Biking Holidays
---
This is box title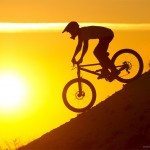 Mountain Biking in the South of France
If you want to stay in the Alps but ride in a Mediterranean climate with clear blue skies and dusty trails, make sure you check out resorts like Les Orres and Val d'Allos in the Southern Alps:
---
French Alps weather and trail conditions
The Alps can be unpredictable when it comes to the weather and trail conditions. While the southernmost resorts like Valloire benefit from a pleasant Mediterranean climate with bright blue skies and sunshine throughout the summer months, the same cannot be said of the resorts further north. The mountain weather can be a little bit of a lottery with thunderstorms rolling in with little notice. That said, the weather is generally fine during the summer months and you would be very unlucky to endure a whole week of rain. However, it's best to be prepared, so pack for hot sun and torrential rain. And, bear in mind that the trails can become very greasy and difficult to ride in the wet, so back up your High Rollers with some winter mud tyres.
The French Alps MTB scene
A concentration of riders head to Morzine and Les Gets with many of them returning year after year. This plus the number of seasonaires means there's a great biker buzz in these towns. Elsewhere in the French Alps, the vibe is more relaxed and riders in the know can ride amazing singletrack around resorts such as Les 2 Alpes, Chamonix and Les Arcs. A must-do event for any gravity seeker worth their salt is the epic Megavalanche enduro DH race in Alpe d'Huez. A mass start sees some 2000 riders race down the mountain from the glacier to the valley floor. For total variety, Valloire is a good combination of classic rides and great scenery, but if you're into riding fast downhill and you're looking for an alternative to the Portes du Soleil, Les 2 Alpes is hard to beat and it's a great party town too.