The Tour des Ecrins (GR54) Multi-Day Trek
A long distance multi-day mountain trek in the largest and highest National park in the French Alps. With its stunning snow capped mountains and tumbling glaciers the Parc National des Ecrins and GR54 footpath offer an unrivalled mountain journey.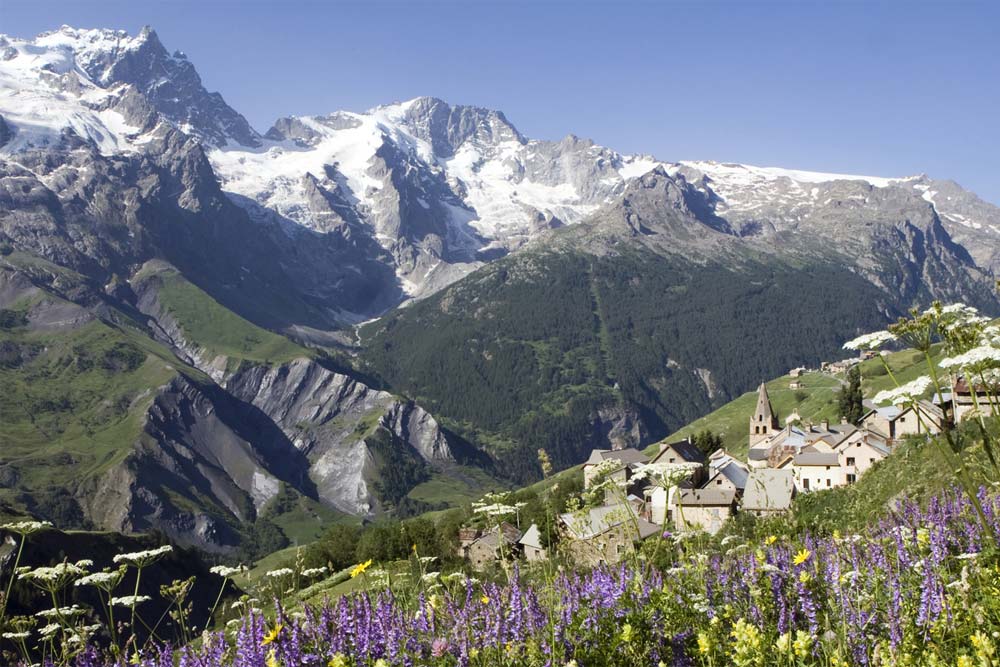 Tour des Ecrins Overview
For breathtaking views of glacier lakes and a real sense of remoteness, take time out to hike the GR54, or the Tour des Ecrins. A classic circular trek, it covers 180 km and is one of the most challenging routes in Europe. Reasonably fit backpackers will comfortably complete this trek in the summer without the need for mountaineering skills or equipment in around 7-12 days.
Highlights
Renowned as one of France's wildest GR treks, the highlights for us are the amazing views of the main peaks of the Ecrins Massif and Lac Lauvitel which blew our mind. High, steep and remote in places, it helps if you have a good head for heights and good scrambling ability, but this adds to the feeling of achievement at the end. The route tops out at 2735 m so shouldn't cause problems for regular walkers.
Route Map
---
The Walking
The Tour des Ecrins (GR54) has a reputation for being one of the most challenging multi-day mountain treks in the Alps. This circular 10+ day trek in the Ecrins National Park is over 180 km long, includes 12,800m of ascent and crosses 14 high cols. Although the trek is considered one of the toughest in the Alps, the nature of the paths and availability of numerous mountain refuges and valley gites means it can be undertaken by anyone of reasonable walking fitness, experience and enthusiasm.
French Alps Trekking also offer a 6-day version which takes in the most remote southern section of the GR54.
The trek is usually started from near the town of Le Bourg-d'Oisans to the northwest of the park and follows a mountainous route around the Barre des Ecrins (the most southerly 4000 m peak in the Alps) as well as passing the spectacular peaks of La Meije (3983 m) and Mt Pelvoux (3946 m) and numerous other mountains over 3500 m. Main villages en route include La Grave, Vallouise and La Chapelle en Valgaudemar.
The steep sided valleys typical of the Ecrins are rich with wildlife, including chamois, ibex, golden eagles, griffon vultures and marmots. A wealth of plants and wild flowers and impressive physical geography will delight nature lovers on a daily basis.
---
Tour des Ecrins Trek Profile
Number of days walking: 10+ (or 6 day version along the southern section)
Pace: Each day will involve up to 1000 m ascent, between 10-18 km walking and time of 6-9 hours, including stops for photos, rest and refreshment.
Terrain: Good paths with some exposure and short sections of easy scrambling.
Longest day: 18km
Max altitude: The Pas de Cavale – 2735 m
---
Typical Tour des Ecrins Itinerary
Day 1: La Danchere or Venosc passing lac du Chambon and on to refuge des Clots (1520 m)
Day 2: Refuge des Clots via the Plateau d'Emparis (2365 m), lac noir and lac lerie to Le Chazelet (1800 m)
Day 3: Le Chazelet to Villar D'Arene, up to Col du Arsine (2451 m) and on to Monetier les Bains (1500 m)
Day 4: Monetier to col de l'Eychauda (2425 m) and on to Vallouise.
Day 5: Vallouise to Pas de Cavale (2735 m) and descent to refuge Pre de la Chaumette (1810 m)
Day 6: Ascent to Col du Vallonpierre (2530m) and on to refuge du Clot Xavier Blanc (1700 m)
Day 7: Pass through La Chapelle en Valgaudemar and up to Refuge des Souffles (1975 m)
Day 8: over the Col de la Vaurze (2500 m) and descent to gite in Le Desert du Valjouffrey
Day 9: Le Desert over la Cote Belle (2290 m) to Valsenestre.
Day 10: Valsenestre via Col de la Muzelle (2613 m) and return to La Danchere
---
Tour des Ecrins Trekking Guides
Available to all fit and adventurous walkers, guided Tour des Ecrins treks run between June and September. The full tour takes approximately 10 days and you can expect to walk about 15 km per day with 1000 m+ vertical ascent each day. The cost generally includes guiding, accommodation in mountain huts and most meals.
---
Practical Information
This is box title
What's Included
All accommodation during the trek in mountain refuges and comfortable valley based gites. All breakfasts and evening meals.
What's Not Included
Flights to France, travel to start point, travel Insurance, personal hill food/lunch for each day.
Fitness Level
This is a strenuous and high level trek with days covering over 15km distance with 1000+m ascents but is open to all fit and adventurous walkers.
Group Size
This is a small group adult holiday. The group is usually between 4 and 6 like-minded people booking individually, in a couple or as friends together.
Accommodation
Accommodation on the trek is easy to find with plenty of choice of mountain refuges, valley hotels and gites, but be careful as these fill up quickly from mid-July through August and many are closed by October. Early September is perfect if you can manage it – the crowds disappear and the weather is ideal for walking. Wild camping is also an option but you can't pitch near the refuges.
Typically, the GR54 starts and ends in Le Bourg-d'Oisans in the valley of the Romanche river, on the road from Grenoble to Briançon, and on the south side of the Col de la Croix de Fer. You'll find plenty of accommodation options in and around Le Bourg-d'Oisans, including hotels, campsites, and self-catering holiday apartments. Again, make sure you book ahead if you're planning to do the hike during the summer months.

---