A Mountain Biker's Guide to EVO Bike Park
Mountain Biking at EVO Bike Park, Digne-les-Bains
Located just outside Dignes-les-Bains in the foothills of the southern French Alps, EVO Bike Park offers enduro and downhill MTB tracks serviced by year-round uplifts.
Year-round shuttle uplift service. Quiet trails. Proper jumps.
Only open at weekends during off-season. No great for beginners.
Elevation
Summit 914 m
Vertical Drop 240 m
Base 674 m
Lifts (Uplifts only)
Cable Cars n/a
Chair Lifts n/a
MTB Trails
XC N/A
Downhill Excellent, intermediate to advanced
Enduro Very good, intermediate to advanced
Total Riding TBC
Bike Park Yes
Bike Wash No
Beginner Trails 0
Intermediate Trails 1 (splits in 2)
Advanced Trails 2
Expert Trails 3
Trail Map
Practical Information
Opening times
Sat-Mon (year round)
Resort prices
1 day pass: 29.00 €, half-day pass: 19 €
Nearest airport
Marseille (1 h 40 min), Nice (2 h 15 min)
Featured Listings
Camping du Bourg
Self-catering mobile home accommodation a stone's throw from the bike park.
Les Noisetiers B&B
Bed and breakfast accommodation in a stunning villa with a pool in Digne-les-Bains.
Gambetta Apartment
Well-equipped self-catering apartment accommodation 500 m from the centre of Digne.
Located in Digne-les-Bains in the Alpes de Hautes Provence region of south-east France, EVO Bike Park offers a year-round uplift service with off-road 18 seater trucks equipped with bike trailers.
Ride dry, dusty DH and Enduro trails, plus a slopestyle track, a pump track and an airbag. The bike park is located about 2 km north-west of Dignes-les-Bains on the D900.
I love it. This is one of the best tracks I have ever ridden, even including Whistler and Coast Gravity Park. There is a lot of flow and beautiful berms. Great experience, can't wait to come back. EVO Bike Park will become a must visit MTB spot in France and even in Europe.
Rémy Métailler
---
The EVO Bike Park Trails
For your riding pleasure, EVO Bike Park has Enduro and Downhill trails for all abilities, plus a slopestyle course, pump track and airbag. On average there's 240 metres of vertical drop and it takes between 3 and 5 minutes to ride a top to bottom. Here's a roundup of the trails:
Dirty Wave – blue
A fast and flowy top to bottom track aimed at riders of all abilities. If you're just getting into mountain biking, this track offers a super-fun introduction to the sport, and if you're more experienced you'll love hitting it at full tilt, shredding the natural features.

Credit © TDG-Photography.com
Slate Line – red
This trail has been hand crafted with toil and sweat by the Digne-les-Bains Homies crew. It carves through a section of the unique Terres Noires terrain and splits into a few different options to get the most out of the hill. You'll find something new every time you ride it.

Credit © TDG-Photography.com
Whip It – red
If you like to get airborne, this trail's for you. There's more than 30 table top jumps so after a couple of runs you'll really be nailing those whips. And with no big gaps to catch you out, you can really let it fly. There's nothing else like it in France.

Credit © TDG-Photography.com
Original Gangster – black
A natural enduro style trail that drops 215 metres in just over a kilometre. It's fast, steep and technical and with rocks, roots, jumps and drops, it's great for honing your all-round mountain biking skills. This is the trail where everything began for the Homies biking crew.

Credit © TDG-Photography.com
Chainsaw – black
A natural, steep and technical trail with a loamy forest top section that spits you out onto the famous black dirt before sending you plummeting back into the trees. Perfectly shaped corners catch you at just the right moment. Hang on tight, you're in for a wild ride.

Credit © TDG-Photography.com
Double Black Mamba – double black
This trail strings together over 20 jumps. Doubles, gaps, hip jumps, everything's designed to propel fully committed riders skyward whilst maintaining the flow. The jumps are huge; doubles and gaps from 6 to 13 metres, so build up to this one and don't overestimate your ability.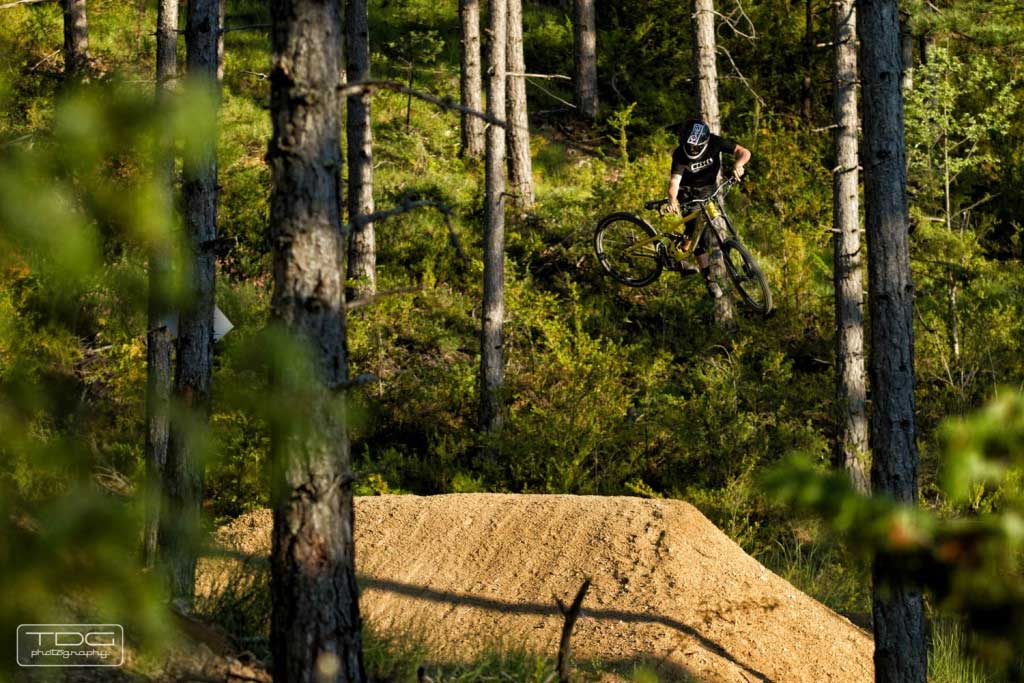 Credit © TDG-Photography.com
---
Know before you go
How do you get there?
From Dignes-les-Bains, head north-west out of town along the Route de Marcoux (D900) for about 2 km. Evo Bike Park is on the right hand side (44.110324, 6.264625). The closest airport is Marseille, about 1 h 40 min via the A51 motorway. The quickest route from Nice is via the Route de Grenoble (N202).
What are the opening hours?
The Bike Park opens at 9am and close a 7pm (6pm in winter)
The uplifts run from 9:30am to 6pm (5pm in winter)
There's a break for lunch between 12:30pm and 1:30pm
How much does a day pass cost?
The day pass costs 29 €. It allows you to use the uplifts service throughout the Bike Park opening hours.
You can also purchase Half-Day, Season, Group and Adult/Child passes.
What's the best way to buy a pass?
You can turn up on the day, but the uplifts can only handle a maximum of 40 riders per day, so your best bet is to book your place in advance.
All you need to do is go to the EVO Bike Park booking platform.
How do the uplifts work?
Off-road shuttle trucks equipped with bike trailers are used for the uplifts. There are currently 2 trucks with 15 seats. To keep waiting times down, a maximum of 40 riders are permitted per day.
Do you have to pay to access the pump track?
Yes, access to the pump track is 3 euros and access to unlimited goes on the airbag is 5 euros. Access is included in the price of an EVO Bike Park day pass.
You may also like...