Ecrins National Park – An Active Holiday Guide
Activity Holidays in the Ecrins National Park
The spectacular Parc National des Écrins is one of the ten French national parks and the second largest after Vanoise. The 1000 sq km protected area straddles the Hautes-Alpes and Isère departments, stretching between Bourg d'Oisans, Briançon and Embrun. The park remains largely unspoilt thanks to its remote location.
HOLIDAYS | ACCOMMODATION | SUMMER ACTIVITIES | WINTER ACTIVITIES
The park's jagged mountainous terrain is dissected by tumbling glaciers and fast flowing rivers, including the Romanche, Durance and Drac, which have created steep, narrow valleys. In summer, hikers, rock climbers, mountain bikers and river runners flock to the park to enjoy the wonderful climate and jaw-dropping scenery. In winter, snowshoeing, hut-to-hut ski touring and mountaineering are popular. The ski resort of Alpe d'Huez sits just beyond the boundaries of the park, 10 km up the switchbacks from Bourg d'Oisans.
Bourg d'Oisans, 50 km south-east of Grenoble in the Romanche Valley, and Briançon in the Durance Valley make great bases for exploring the park.
The mighty Barre des Écrins peak (4102 m) is the highest of the Massif des Ecrins mountains and is a popular ascent amongst mountaineers. It is surrounded by other equally majestic peaks including La Meije (3983 m) and Pelvoux (3946 m).
The park is rich in both flora and fauna. One third of France's species of plants are found in the park and animals include hares, marmots, foxes, chamois and golden eagles. Some people have even reported seeing wolves.
---
Ecrins National Park Map
The Ecrins National Park is located south-east of Grenoble, west of Briançon and north of Gap and Embrun. The park straddles the Rhone-Alps and Provence-Alps-Cote d'Azur regions.
---
Getting to the Ecrins National Park
Gap, 1 h 45 min drive north of Marseille, is the closest transport hub to the southern side of the Ecrins NP. Grenoble is the nearest transport hub to the northern side. You can fly into both Grenoble and Marseille.
Gap and Briançon train stations have good connections from major cities in France, including an overnight sleeper from Paris.
Regular buses and coaches serve local villages from the train stations, so it is possible to reach your final destination only using public transport.
However, public transport in and around the mountains is limited and taxis are expensive. So, unless you're on an organised tour, to get the most out of your visit it's best to have a car.
---
Active Holidays in the Ecrins National Park
We've teamed up with the best active holiday companies to help you organise an unforgettable trip to the Ecrins:
---
Accommodation in the Ecrins National Park
Within the park's central zone there are over 40 refuges offering basic accommodation high in the mountains. But if you're looking for a more comfortable base there's plenty of good hotel accommodation in the park's main population centres including Embrun, Les 2 Alpes and Orcières. Here's a selection of our favourite places to stay:
This is box title
Hotel La Meije – Les 2 Alpes
From 61 € per night
Occupying a great location right in the centre of Les 2 Alpes, Hotel La Meije offers chalet-style accommodation with ski-in-ski-out access. The hotel restaurant serves a buffet breakfast and a three-course evening menu using local produce. In winter, you can relax by the log fire in the hotel bar and in summer, enjoy a cold beer on the sunny terrace.
Check availability | Go >
Logis La Cremaillere – Saint-Bonnet
From 57 € per night
Logis La Cremaillere is located in the Champsaur Valley at the southern end of the Ecrins National Park. Just 15 minutes from the nearest ski resort and with great cycling and climbing on the doorstep it's a great base for an active holiday in the Ecrins National Park. The beautiful Serre-Ponçon Lake is a 38 km drive and Orcières 1850 is 30 km away.
Check availability | Go >
Gite du Bois de l'Ours – Orcières
From 65 € per night
A mountain gite with a warm, friendly atmosphere, the Bois de l'Ours makes an ideal base for an outdoor activity holiday. The owners prepare traditional meals using local produce and can advise on hiking and biking trails in the surrounding area. A free shuttle service runs you up to Orcières 1850 in just a few minutes where you can access the ski lifts.
Check availability | Go >
Hôtel les Chaumettes – Savines
From 54 € per night
Located in Savines-le-Lac, surrounded by the Ecrins National Park, this hotel is facing Lac de Serre-Ponçon and has panoramic views of the mountains and the lake. Just 8 km from outdoor sports centre Embrun and with the ski resort of Les Orres with its summer bike park also just a short drive away, this is a lovely hotel in a great location.
Check availability | Go >
---
Ecrins Summer Activities
In summer the Ecrins National Park draws outdoor enthusiasts from across France and beyond. Hike the Tour des Ecrins, mountain bike high altitude terrain, take on the 4000 m Barre des Ecrins. Mountain resorts like Orcières, Embrun, La Grave and Le Bourg d'Oisans are geared up to make sure the hyper-active need never pause, and have an unforgettable active holiday.
Hiking

Hiking in the Ecrins National Park | © French Alps Trekking
With its stunning snow capped mountains and tumbling glaciers the Parc National des Ecrins offers exceptional trekking. Walkers of all ages and levels of experience can enjoy the park. There's everything from easy waymarked loops to multi-day hut-to-hut treks in the remote mountains.
Hike the formidable Haute Vallée de la Séveraisse and walk amongst the imposing 3000 metre snowy peaks. Or, for gentler terrain, choose the rolling Alpine foothills of the Champsaur Valley.
The season generally runs from April to November, but you can hike in the Ecrins National Park all year round. However, from December to March you really need winter mountaineering skills as the weather at altitude can change quickly and the presence of snow and ice means there's always a risk of avalanche.
For breathtaking views of glacier lakes and a real sense of remoteness, take time out to hike the GR54, Tour des Ecrins. A classic circular trek, it covers 180 km and is one of the most challenging routes in Europe. Darren from French Alps Trekking suggests that reasonably fit backpackers can comfortably complete this trek in the summer without the need for mountaineering skills or equipment in around 7-12 days.
Another classic long distance route in the area is the Tour du Vieux Chaillol which Undiscovered Mountains can organise for you as a guided or self guided trip.
At the southern end of the national park you can hike the limestone massif of Devoluy with its stunning views over the Lac de Serre Ponçon and Lac du Sautet.
---
Mountaineering

Mountaineers summit the Pic de la Grave in the Massif des Ecrins | © Flickr – mzagerp
With its jagged 4000 m peaks, the Ecrins National Park has some of France's best and most accessible mountaineering. Summits like the Barre des Ecrins, La Meije and Ailefroide may be the big draw, but there are lots of lesser known and equally majestic climbs as well. And yours may be the only group to summit on any particular day.
The mountains in the La Séveraisse Valley offer 2500 to 3500 m climbs with easy and moderate grades, including l'Obiou (2789 m), Piolit (2464 m), Les Rouies (3589 m), Sirac (3444 m) and l'Olan (3564 m). The Val des Sources hotel near Saint-Maurice-en-Valgodemard makes a good base. The routes involve glacier crossings and scrambling and climbing in a high mountain environment, so it's always best to take a guide. The progressive, off-the-beaten-track mountaineering week from Undiscovered Mountains takes in 3 of these peaks. Over the course of the week, you'll develop climbing techniques enabling you to move safely over glacial terrain and in a steep and exposed environment.
A long way from the busy routes of the Northern Alps, mountaineering in the remote mountains of the Ecrins gives you a real flavour of classic mountaineering off the tourist track.
---
Mountain Biking

Cross-country mountain biking around Orcières | © OT Orcières – Chris Caprin
Mountain biking in the Ecrins is a true backcountry biking experience. Ride through the picturesque villages of the Vallouise valley to the wilderness of Freissinières and the banks of the upper Durance river. With 200 kilometers of FFC (Federation Francaise de Cyclisme) waymarked trails, there's a good variety for all abilities.
Gravity hunters should head to the mountain resort of Orcières. In summer there's chairlift access to 8 downhill tracks and 5 enduro trails. The lifts whisk you up to 2650 m and a ride all the way to the bottom of the valley covers some 1800 m of calf-burning vertical drop. Although the bike park's not huge, there's plenty of riding to keep intermediate and advanced riders entertained for a few days.
From the Orcières 1850 bike park you can access miles of flowing singletrack in the Champsaur valley. There's a huge variety of riding but a highlight has to be the multi-day 230 km Tour de la Vagaude cross-country epic.
At the northern end of the park you're just a stone's throw from the high mountain resorts of Les 2 Alpes and Alpe d'Huez. Les 2 Alpes is reputed for its excellent bike park and Alpe d'Huez is best known for its huge vertical drop. Each year in July the resort hosts the legendary Megavalanche, a mass-start enduro event where competitors ride a whopping 2500 m of vertical drop from snow and ice down to dusty singletrack.
---
Rock Climbing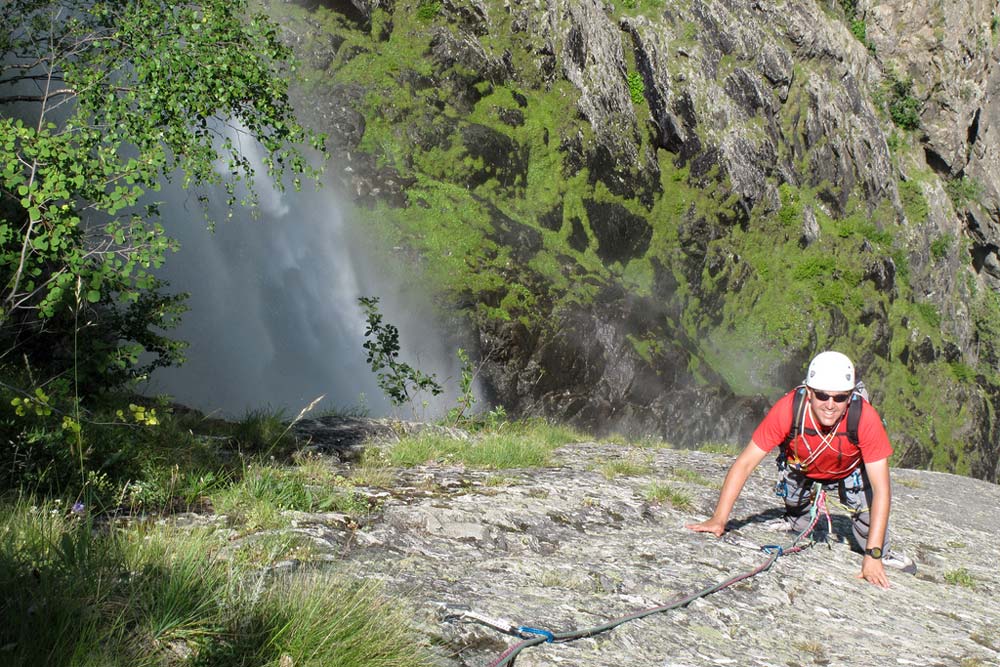 Climbing the Pin Thotal route at the Alpe du Pin waterfall | © Flickr – Bob
The rock climbing in the Ecrins is hugely varied – single-pitch, multi-pitch, big-wall, bouldering, you could spend years here and never get bored!
The quality of the rock, spectacular scenery and sunshine just add to the experience.
The crags at Pont du Fossé have nearly 100 routes graded from 3a to 7b. With easy access and great views, this is a great spot for everyone from beginners to confirmed rock monkeys.
The Falaises de Corbières in the Haut Champsaur is where to head to for big multi-pitch routes. You need an 80 m rope and a head for heights to climb here. The south-east facing rock face is a veritable sun-trap and you'll find 65 bolted routes from 5c to 7c.
If the Ecrins National Park itself doesn't satisfy, 45 minutes drive south-east of the park is world-renowned Céüse. You'll find immaculate rock and long single-pitch sports routes with a smattering of multi-pitch climbs on the Grand Face.
A bit further south again you come to the medieval village of Orpierre, where you'll find over 500 climbs graded from 3a to 8c spread over several crags. With easy access and pretty much guaranteed sunshine it's no wonder this is regarded as one of the world's top climbing destinations.
Undiscovered Mountains run climbing holidays in the Ecrins. Centrally located in the Champsaur Valley, there's easy access to the best crags and their instructors are fully qualified UIAGM high mountain guides.
---
Paragliding

Tandem paragliding in Orcières-Merlette | © OT Orcières – Gilles Baron
With big mountains, plenty of sunshine and favourable winds, the Ecrins Nationals Park is a top destination for paragliding. And, some of the best paragliding in the park is in the Champsaur Valley. In Orcières, Saint-Léger-les-Mélèzes and Ancelle you'll find lots of paragliding schools offering tandem flights. Once you've been bitten by the bug, you can go on to do a paragliding courses to learn how to fly solo and become an independent pilot.
Undiscovered Mountains offer paragliding as an option in their summer multi-activity holidays.
---
Ecrins Winter Activities
In winter, the mountains of the Ecrins National Park are covered in a blanket of snow and ice. From skiing and snowboarding to snowshoeing and ice-climbing there's a whole range of energetic winter activities to choose from.
For an authentic experience in the heart of the Ecrins National Park, base yourself in the ski resort of Orcières 1850 or in one of the traditional Alpine villages along the Champsaur Valley. Alternatively, to ramp up the adrenaline, head to Le Bourg d'Oisans, where you can access Les 2 Alpes, Alpe d'Huez and the off-piste Mecca of La Grave.
Skiing & Snowboarding

Backcountry skiing in La Grave | © P. Rebreyend
Good off-piste skiers shouldn't miss the opportunity to ski in the freeride capital of the world. La Grave is unlike any other ski area you've ever been to. There are no pistes, ski patrol, busy expensive restaurants and crowds wearing expensive fashionable ski clothing. La Grave is all about empty slopes of untracked powder and formidable backcountry terrain with steep gullies, huge drops and some of the best tree runs in the Alps.
Further south, the climate and terrain become less fierce. Sunny south facing slopes, big skies and breathtaking panoramas await you. Located at the crossroads of the south of France and the high Alps, the ski resort of Orcières is like a Provence and French Alps smoothie! The ski area tops out at 2725 m, offering high altitude skiing and an excellent variety of terrain. Add to that a great snow record, over 100 km of pistes and authentic Alpine village charm and there's a lot to like about Orcières.
---
Ice Climbing

Ice climbing the Glacier Blanc in the Ecrins National Park | © Flickr – Jerome Bon
Ice climbing is a challenging but accessible sport that blends rock climbing with mountaineering. Hidden away in the the Haut-Champsaur and Valgaudemar valleys you can find some of the best ice climbing in the Alps.
Grab your ice axe and crampons and brace yourself for a technical, physical and psychological challenge as you climb the glaciers, frozen waterfalls and steep gulleys of the Ecrins.
Ice climbing can be dangerous, so should only be attempted with a qualified guide who knows the local area. Undiscovered Mountains based in the Champsaur Valley run ice-climbing holidays for all abilities.
---
#ecrins Instagram Photos
---
Please leave a comment below if you need specific advice for your trip to the Ecrins National Park, or if you have any recommendations to help us improve this guide. Happy holidays!
---
You may also like...