Gorges de l'Ardèche – Travel Guide, Activities & Accommodation
Gorges de l'Ardèche – An Active Holiday Guide
The spectacular Ardèche Gorge and surrounding area is the perfect destination for an active holiday. The Ardèche river winds its way down from the Massif Central carving out a steep canyon and the famous Pont d'Arc natural arch, creating a playground for outdoor sports enthusiasts.
HOLIDAYS | HIGHLIGHTS | ACTIVITIES | ACCOMMODATION | GALLERY
Canyoning, rock climbing, hiking, via ferrata, kayaking, mountain biking, paragliding… You name it, you can do it in the Ardèche! The weather's great too; bordering Provence, the southern Ardèche has a Mediterranean climate with hot, dry summers and lots of sunshine throughout the year.
The beautiful 32 km gorge winds its way from Vallon Pont d'Arc to Saint-Martin-d'Ardèche in the Rhône Valley. Drive the road following the rim with its spectacular viewpoints at regular intervals. Hike and bike the myriad of tracks and trails that crisscross the rocky terrain. Climb the pocketed limestone cliffs reaching up to 300 m high. And, paragliders can launch from the higher ground in the nearby Cévennes National Park and enjoy breathtaking views across the Ardèche to the Mont Ventoux.
But it's from the river where you'll really be able to appreciate the majesty of the canyon. Canoeing trips from a couple of hours to several days are straightforward to organise with local river running companies, and canyoning is a really fun and physical way to explore the gorge and get a good soaking at the same time.
---
Active Holidays in the Ardèche
We've teamed up with the best active holiday companies to help you organise an unforgettable trip to the Ardèche:
---
When's the best time to visit the Ardèche?
The Ardèche is a great destination at any time of the year, but from May to October the days are long and balmy and you can swim comfortably in the river.
May and June is the perfect time to visit especially if you want to get stuck into the outdoors. With long sunny days and temperatures that aren't too high, you can enjoy empty hiking and biking trails, quiet rock climbing sites and nice high water levels for kayaking.
During July and August, the Ardèche river is packed with canoes and the Pont d'Arc gets super busy with tourists. The road along the canyon rim is jammed with traffic and accommodation gets booked up fast. Having said that, with a bit of effort you can still find some quieter areas along the river, on some of the harder to reach trails and in the old oak forests that make up so much of the landscape.
September is our favourite month. With the majority of holiday makers gone, the area is once again quiet. The river is still nice and warm for swimming, and the temperature is perfect for climbing, hiking and biking. Rain can be more frequent but tends to move through the area quickly giving way to some glorious, cool sunny days. Rain also means that the river levels begin to rise drawing some serious kayakers who enjoy the swelling rapids. Autumn days are mostly fresh and sunny and nights are cold. From December to February you can expect cold, crisp winter days with occasional snowfall. Spring comes early with frequent 20 degree days in March and April.
Although the winter tranquility and clear blue skies can be glorious, it's worth noting that from the end of October to March many accommodation options, activity providers and restaurants close.
---
Gorges de l'Ardèche Visitor Highlights
This is box title
Pont d'Arc
The Pont d'Arc is a huge natural bridge carved out of the limestone by the Ardèche river. Located 5 km from the town of Vallon-Pont-d'Arc, the arch is 60 m wide and 54 m high. There's plenty of parking a short walk from the arch and there's a pebbly beach for sunbathing and great swimming in the river. Paddling through the arch is a highlight of a canoe trip down the river and it's a nice idea to build in a rest stop here.
---
Grand Site de l'Aven d'Orgnac
20 minutes south of Vallon-Pont-d'Arc is the huge subterranean cave system of Aven d'Orgnac. With guided tours through the limestone cave and a museum of prehistoric artifacts, it's a great day out for all ages. The Sentier du Maubois walking trail winds its way through the Orgnac woods beside the museum.
More info: www.orgnac.com, Contact : +33 (0)4 75 38 65 10.
---
Antraigues-sur-Volane
The ancient village of Antraigues is perched high on an outcrop of volcanic rock and in 2014 was voted France's 5th favourite village. It has been home to some of France's great artists like musician Jean Ferrat and painter Jean Saussac who came here and never left. The countryside around Antraigues is stunning and there are a number of walking trails through the hundred year old chestnut trees, up to the Saint Roch chapel with wonderful views over the Auches escarpment and Espissart falls.
---
Les Gorges du Chassezac
The Chassezac Gorge is a rock climber's dream destination. A tributary of the Ardèche, the Chassezac river has carved a beautiful vertiginous gorge through the mountainside creating a playground for adventure sports enthusiasts. You can spend your days rock climbing, canyoning, caving, canoeing and wild swimming in the crystal clear water. Along the southern banks of the river an ancient oak forest, the Bois de Païolive, is peppered with limestone boulders chiseled by erosion into weird formations that make them perfect for bouldering.
---
Outdoor Activities in the Ardèche Gorge
With its sparkling river, huge limestone cliffs, canyons and myriad of tracks and trails, the southern Ardèche is a Mecca for outdoor sports enthusiasts.
Canoeing | Canyoning | Mountain Biking | Rock Climbing | Via Ferrata | Caving
Paddle a canoe through the spectacular Ardèche Gorge, jump and slide your way down one of the region's canyons, hike and bike the trails around Vallon-Pont-d'Arc and climb the pocketed cliffs of Richemale. With an average of 300 days of sunshine per year, the Mediterranean climate means there's fun to be had all year round.
---
A descent down the spectacular Ardèche Gorge may well be the highlight of your Ardèche adventure…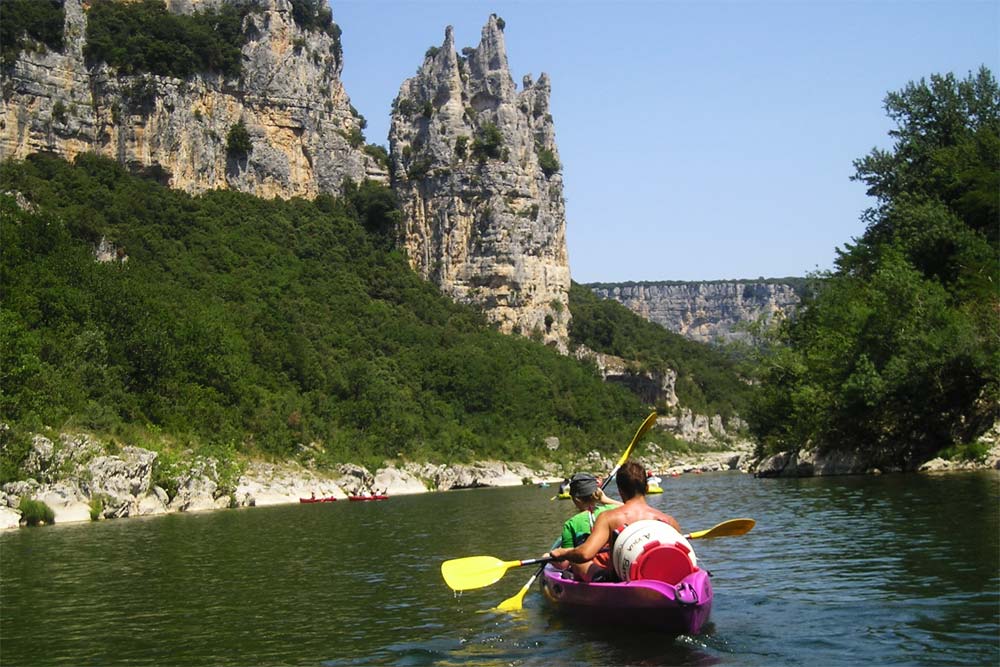 Canoeing past Cathedral Rock in the Ardèche | © Flickr, Eric Goodwin
You can rent canoes and head off downriver from a number of departure points in the gorge, including Vallon Pont d'Arc, Voguë, Balazuc, Ruoms, and Châmes. Choose anything from a 2 hour self-guided trip to a 3-day/60 km guided expedition with camping in the gorge. With some basic instruction, you can navigate the rapids of the Ardèche Gorge perfectly safely. After heavy rain, the rapids can be thrilling but they're always followed by calm sections. You'll float through the famous Pont d'Arc where you can paddle over to some pebbly beaches and take in the beauty of the gorge. In spring and autumn the Ardèche is in full flow and big volume rapids draw kayakers from all over Europe.
---
Jump, slide, swim and abseil your way down the beautiful canyons of the Ardèche. Vallon du Pont d'Arc is the region's canyoning capital with descents to suit all abilities in close proximity to the town.

Abseiling down a waterfall in the Haute Chassezac canyon in the Ardèche | © ardeche-tourisme.com
Equipped with a wetsuit, a helmet and a harness, you'll feel like a kid again as you jump and slide your way down the canyon. You're guide will have you jumping into rock-pools, swimming through whitewater and abseiling down waterfalls. Besides a good soaking, two things are guaranteed – you'll have a huge amount of fun and you'll be unbelievably tired at the end of the day.
Canyoning is a good workout and you need to be comfortable in moving water. That said, there are canyons for all abilities, so you can start with a shorter, more straightforward descent and build up to a more challenging trip. Jumps can be up to 8 metres high, but you'll be shown the correct technique and there's always an easy alternative route, so none of the jumps are compulsory.
Le Chassezac canyon
A super fun canyon with jumps and slides into deep, crystal clear rock pools, and abseils down foaming sprays of water. An unforgettable experience in unique surroundings.
La Borne canyon
The perfect canyoning fix. More obstacles, more jumps and more challenging than Le Chassezac, this is a canyon for thrill-seekers looking for adventure.
---
Dry, rocky tracks criss-cross the southern Ardèche through fragrant lavender fields and winding steeply up the hills overlooking the gorge.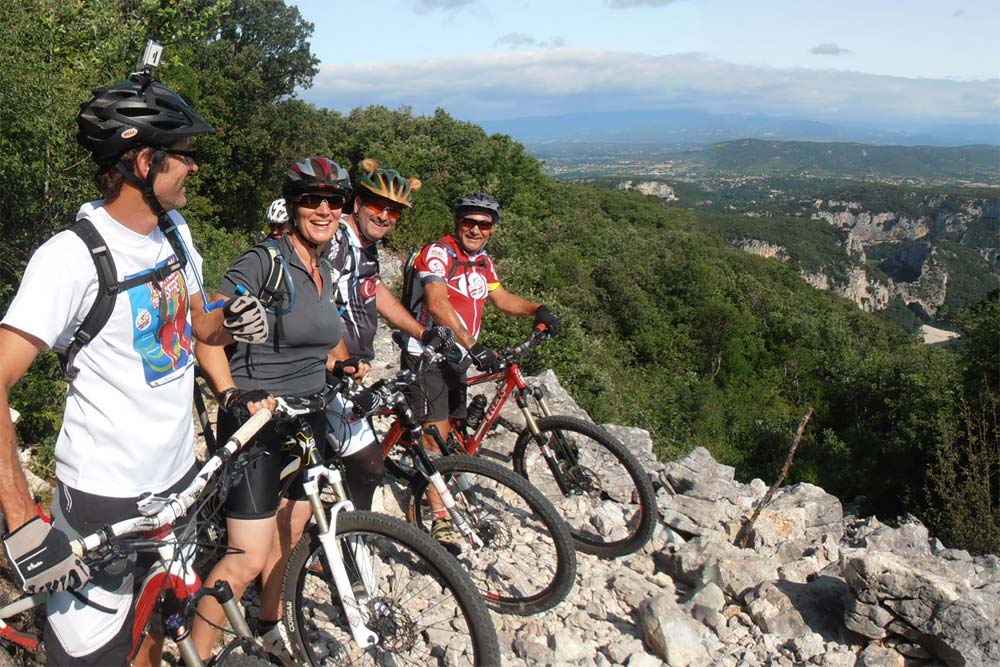 A mountain biking loop from Barjac with views of the Ardeche Gorge | uzesveloclub.fr
With 100s of kilometres of waymarked trails, the Trans-Ardèche multi-day ride and the Monts d'Ardèche MTB event, there's plenty of riding to keep even the most enthusiastic mountain biker happy.
The Trans-Ardèche
The Trans-Ardèche or La Grande Traversée de l'Ardèche, is a 260 km multi-day itinerary covering a total of 7450 m of vertical drop and reaching over 1600 m at it's highest point. The trail is waymarked the whole way. The ride can be broken down into 3 sections – Northern Ardèche with two start points possible, Boulieu les Annonay or St Félicien, the Ardèche mountains, including the Monts d'Ardèche Regional Park, and Southern Ardèche, including Vallon Pont d'Arc and all the way to Bourg-Saint-Andéol in the Rhône Valley.
Monts d'Ardèche
About 70 km north of Vallon-Pont d'Arc is a protected area of forested limestone ridges, green valleys and plateaus known as the Pays de Cheylard. 436 km of waymarked trails broken down into 22 different routes, including a 126 km circuit, offer mountain biking for all abilities. It's here that the Raid VTT des Monts d'Ardèche event takes place at the end of June each year. Pick up maps and more info at Office de Tourisme du Pays de Cheylard, Rue du 5 juillet 44, 07160 Le Cheylard.
Pays de Saint Félicien
The Saint Félicien MTB area has 250 km of waymarked trails split across 15 different itineraries graded from green to black. The undulating terrain is perfect for mountain biking and highlights include the Col du Gibet and the singletrack around the village of Vaudevant. More info and maps available from the Saint Félicien tourist office.
---
Pocketed limestone cliffs overhanging the river, granite slabs flanking ancient volcanoes and forests strewn with twisted boulders make the Ardèche one of France's premiere climbing destinations.

Rock climbing near Vallon Pont d'Arc in the Ardèche | © teamascent.co.uk
Pocketed limestone ridges, granite slabs and steep gorges combine to make the Ardèche a climber's dream. And with all grades of single-pitch sports climbing to rock hard multi-pitch trad routes, there's something for everyone, from complete beginner to dedicated cliff hanger.
There's masses of climbing in the Ardèche, here are some of the highlights:
Lac d'Issarlès – la Dame du lac
With 33 single pitch routes from 3b to 7a, this is superb climbing spot right on the lake, so in summer you can cool off with a refreshing swim.
Salavas – Fontgarnide
Located a stone's throw from Vallon-Pont-d'Arc, Salavas is one of the most popular climbing sites in the southern Ardèche. It gets busy with tourists in the height of summer, but it's a beautiful limestone rock wall with nice overhanging sections and over 100 routes from 4b to 8b+.
Bouldering in the Bois de Païolive
In the Gorges du Chassezac near Berrias-et-Casteljau is an ancient boulder strewn forest called the Bois de Païolive. The limestone blocks have been chiseled over millennia into strange shapes that make them great for bouldering. As you drive from Berrias-et-Casteljau along the d252 towards Mazet Plage, you can see some boulders along the side of the road.
Face Sud climbing school based in Vallon-Pont d'Arc offer lessons and guided trips for all levels.
---
Unleash your inner Tarzan and climb to impressive heights in the Ardeche Gorge via a network of cables, ladders, rope bridges and zip lines.

Via ferrata du Pont du Diable in the Ardeche | © Flickr – Christophe Delaere
By embarking on a via ferrata adventure in the Ardèche you'll experience the thrills and exposure of rock climbing while being securely tethered to a steel cable bolted to the rock. A half day trip will see you climbing to impressive heights via a network of cables, ladders, rope bridges and zip lines. A great group activity, bring a small backpack with some water, a snack and sunscreen and wear closed toe trainers. You'll be kitted out with a helmet, harness and a set of via ferrata lanyards.
Pont du Diable Via Ferrata
Overlooking the Ardèche this 3 hour via ferrata course offers guaranteed thrills. The highlight is the huge 100 m long zip line that spans the river. Graded intermediate, you don't need any previous via ferrata experience, but you do need to be reasonably fit.
The Pont du Diable via ferrata is about an hour's drive from Vallon Pont d'Arc near the village of Thueyts, (lat,long 44.671073, 4.221356).
Lac de Villefort Via Ferrata
Overlooking a mountain lake, this via ferrata is wild and challenging, fitting of its location bordering the Cevennes National Park. The route is renowned for its exposure with rope bridges stretching between granite slabs and an impressive zipline. The full course will take about 3 hours, but there are a number of exit points making it ideal for a mixed ability group.
The Lac de Villefort via ferrata is located about 1 km outside Villefort towards Mende, 1 hour 10 mins by car from Vallon Pont d'Arc, (lat, long 44.448648, 3.930241).
Via Cordata de la Madonne
Similar to a via ferrata, this via cordata uses a sequence of ropes tethered to the rock rather than cables. Highlights include a big abseil and a suspended rope bridge with spectacular views over the Ardeche gorge.
The Via Cordata de la Madonne is about 35 minutes from Vallon Pont d'Arc. Head south on the D290 tourist route to Belvédère de la Rouvière just south of the Combe de Mounier ravine near the village of Bidon, (lat, long 44.334451, 4.514781).
Face Sud in Vallon-Pont d'Arc offer guided via ferrata trips for all abilities and kids from age 10.
---
Get down and dirty with the Ardèche by venturing underground. A labyrinth of limestone caves offers the intrepid visitor a whole new world of grottoes, tunnels, stalactites and secret waterfalls.

Caving in the Ardèche | © Flickr – Christophe Delaere
La Salle des Concrétions
This a fun and spectacular caving experience, accessible to all and ideal if it's your first time. Navigate a sunken limestone arch, abseil into underground caverns and marvel at the beauty of the stalactites and stalagmites that this cave is renowned for. Top off your adventure with a 40 m zip-line across the cave's biggest cavern.
---
Accommodation
Here's a few recommendations for places to stay in the Ardèche. Vallon-Pont-d'Arc, Ruoms, Vagnas and Aubenas are all ideally located with easy access to the river and gorge.
This is box title
Camping Huttopia – Vagnas
From 35 € per night
Camping in the southern Ardèche is just a stone's throw from the Ardèche Gorge! An ideal destination for families or groups of friends, Huttopia Sud Ardèche campsite is set in beautiful countryside and a great location for outdoor sports, including hiking, climbing and canoeing.
Check availability | Go >
Hôtel le Silex – Vallon-Pont-d'Arc
From 130 € per night
Built into the cliffs 500 m from the Pont d'Arc, Hotel Le Silex offers a unique accommodation experience. You can expect a warm welcome, and a very comfortable stay with on-site bar, sun terrace, free on-site parking and WiFi. Le Silex is ideally located for walking, cycling and canoeing.
Check availability | Go >
---
#ardeche Instagram Photos
---
Please leave a comment below if you need specific advice for your trip to the Ardèche Gorge, or if you have any recommendations to help us improve this guide. Happy holidays!
---
You may also like...