Lacanau – An Active Holiday Guide
A surfing mecca known the world over for its beach-break barrels, golden sand and fragrant pine forests, Lacanau is a bustling beach resort in a beautiful natural setting.
Situated in the heart of the 'Côte d'Argent', Lacanau remains a gem on France's Atlantic Coast. A picturesque holiday destination bordered with pine trees and protected by sand dunes, this laid-back, surfing outpost is a contradiction of calm, shaded woodland and pumping surf and summertime parties.
Bordeaux's nearest beach, Lacanau Océan is split between its beautiful lake and the beach front famous for its world-class waves. Watersports enthusiasts can divide their time between the sandy shores and the lake to SUP, surf, windsurf, kitesurf and sea kayak.
Our guide to Lacanau will take you through the area's outdoor activities, the best restaurants and bars, and all the highlights this energetic, sun-kissed beach resort has to offer.
[wooslider slide_page="lacanau" slider_type="slides" limit="6″ theme="business" layout="text-bottom" overlay="full" thumbnails="default" display_title="true" imageslide="true" order="DESC" order_by="date"]
Lacanau Highlights
With fine golden sand stretching as far as the eye can see in both directions, it's no surprise that Lacanau is such a popular beach resort. Home to some of France's most challenging waves, surfers arrive in their droves during high summer to ride the powerful barrels that this coast is famous for.
The Lacanau Pro
Lacanau hosts one of the most prestigious surf competitions on the French leg of the World Surf League's qualifying series, the Lacanau Pro has seen some of the most successful surfers on the planet perform in front of massive crowds. Thanks to the region's shapely sand bank, gutsy amateurs and pros like Gabriel Medina share the lineup, exploring the tidal ebbs and flows for killer close­outs and lazy rollers.
Explore Lacanau's lakes and forests
Inland, a string of lakes bordered by lush pine forest strike a different chord all together. Opportunities to get active abound. Cycle from the beautiful Lac de Lacanau north via the Étang de Cousseau to the village of Maubuisson at the southern end of Lac d'Hourtin. Stop off for a waterski or a windsurf on the way.
The small villages peppered along the waterways between the lakes offer a unique insight into rural French living. Lunch at charming brasseries, wander through the markets and savour local delicacies, or burn some calories and cycle out to explore the natural wildlife reserves on the outskirts of town.
Practical Information
Nearest airport

Bordeaux-Mérignac (47 min)

Lat, Long

45.001359, -1.196350

Pharmacy

Pharmacie de l'Océan, 11 Allée Pierre Ortal, 33680 Lacanau.
Tel +33 (0)5 56 03 21 39.

Post Office

La Poste, Place de l'Europe, 33680 Lacanau.
Tel 36 31.

Taxi

Serge Gelot
Tel +33 (0)6 21 74 76 85.
Parking
Like most French seaside towns, parking during summer can be tough. Thankfully, Lacanau Océan has ample parking for both day visitors and holiday makers. At €7 a day, it isn't particularly cheap, but the custom built car parks avoid troublesome street parking that is only limited to two hours a day. Three large car parks are available just off the main road to the beach, street parking is also welcome, but keep tabs on your time limit as local police officers love to dole out hefty parking fines!
Getting Around
With more than 110 km of safe forest cycle tracks, you'd be mad not to take advantage and jump on a bike. A few competitive rental companies at the ocean front and lake provide affordable rates for daily and weekly hire. Offering family packages, beach cruisers, city bikes, mountain bikes, VTT's, trailers and tandems, you can pre-­order and pick up in store, or get them delivered to your door. Buses also run on an hourly basis between the ocean and the lake, stopping at local commodities and attractions along the way. The shuttle service only runs until 7.30pm, after that, night owls and party goers are left to their own devices as taxi services are few and far between.
Lacanau Bike hire: http://www.locacyclelacanau.fr/ | Bus timetable
Lacanau Activities

Flying over the lip, Lacanau| © Flickr – Stéphane Vermell
In summer, Lacanau is buzzing with surfers from all over Europe. There are dozens of surf schools operating up and down the beach. Lessons at low tide will suit novices and kids, whilst advanced surfers hungry for bigger waves can duck­dive through the breakers and compete for barrels out back.

Flying down the beach on a land yacht in Lacanau | © windygliss.com
Race up the beach in a land yacht
A thrilling coastal activity, when the wind starts howling and holidaymakers retreat from the beach, land yachters are in their element. A foot off the ground and a powerful sail overhead, get strapped into your buggy and race across the beach at hair raising speeds. A popular seaside sport thanks to Lacanau's wide, flat beaches and breezy climate, land yachting is an alternative way to get your kicks on this wild shoreline. A high intensity activity that'll have you zig zagging between the surf and rugged sand dunes in no time.
WindyGliss, based just up the road at Carcans Plage, offer beginner and intermediate lessons. With a two hour session ample time to learn the basics and start cruising the sand track; perfect your figure of eights and then head off solo, tracing lines in the wet sand.
Prices for land yachting vary depending on whether you prefer the lake or the beach. Lessons are available in groups, and children are welcome from eight years old. Booking in advance is advised as lessons for beginners depend on wind strength and weather conditions during the length of your stay.
WindyGliss, Maison de la Glisse, Avenue des Gourbets, 33121 CARCANS. Tel +33 (0)6 10 50 73 96.
Treetop adventure course in Lacanau-Océan
Set in lush pine forests a short cycle from the seashore, leave terra firma for an afternoon and swing through the trees at Lacanau's aerial obstacle course. An adrenaline pumping treetop experience, La Forêt des Accromaniaques is a great outdoor experience for families, friends and groups. Unleash your inner Tarzan and dangle 35ft off the floor, pushing your limits as you make your way up and down the two hour circuit.
Harness up and get set free in the forest canopy, belaying around the course on an individual, continuous safety system that lets you fly from trapeze poles to tight ropes in complete security. Navigating your way among the scented pines, tackle the monkey bars and zip lines to reach the summit, a viewing tower that offers a unique glimpse through the foliage and out to sea. Our top tip: take a second to scan the tree tops for Aquitaine's elusive black squirrel.
A physically challenging afternoon activity, La Forêt des Accromaniaques offers five different courses ranging from supervised junior circuits to autonomous adult courses. Prices start at €15 per person. Bring your trainers, flip flops are no go.
La Forêt des Accromaniaques, Route du Baganais, 33680 Lacanau-Océan. Tel +33 (0)6 28 19 45 98.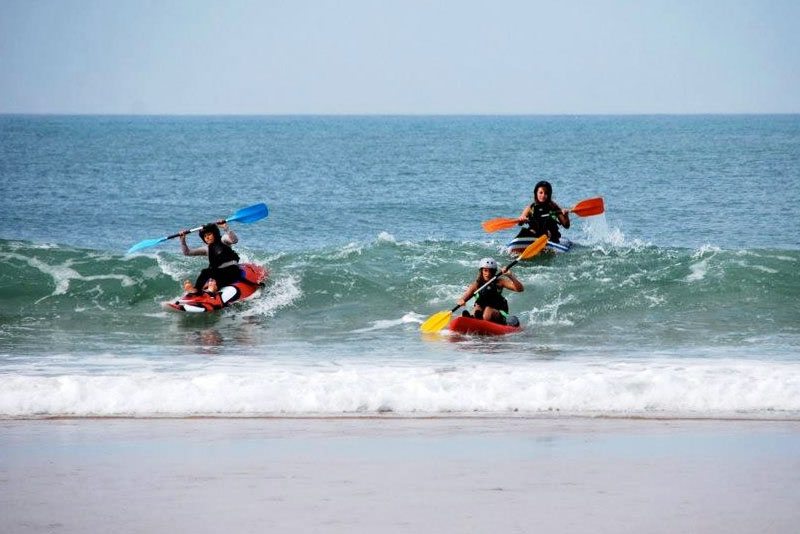 Waveski surfing in Lacanau | © Club Kayak Lacanau Guyenne
Surf Lacanau's breakers on a waveski
An alternative to surfing the bone crushing breakers that dominate the shoreline, waveski surfing combines the paddle power of a sit on top kayak with the maneuverability and performance of a surfboard. It's easier to learn than surfing and a fun way to enjoy the Lacanau's waves. A well­-known stretch of beach amongst kayaking aficionados and water sports enthusiasts, during low tide, pristine beach breaks stretch for miles north and south of Lacanau, letting you feel the motion of the ocean on the lazy shore breakers.
Not for the faint hearted, sea kayaking is high intensity, working your core as you paddle past the white-water onto the placid deep blue ahead. Beach brothers, WaveSki pitch up their tent beach­side during the summer, offering professional beginner and advanced lessons for aspiring water athletes and families looking for a muck about in the surf. Providing group sessions and one-­to-­one lessons, chuck on a wetty and embrace the sea spray on one of their open top kayaks.
Fun for all the family, ocean kayaking with WaveSki is advised for confident swimmers and older children. Wetsuits and helmets are provided for two hour starter lessons and courses throughout the summer.
CKLG, 24 allée du club, La Grande Escourre, 33680 Lacanau. Tel +33 (0)6 02 22 18 67.

Cycling through the forest in Lacanau | © OT Médoc Océan
Cycle the winding trails from Lacanau to Maubuisson
Set inland away from the hustle and bustle of the ocean front sits the little known village of Maubussion. Home to a shallow lake perfect for young waders and thrill-seekers alike, you'll find activities for all the family, from pedalos to parasending. 15 km of undulating bike trails connect Lacanau to Maubuisson, and if you choose to cycle, you'll be rewarded with a pleasing mix of crisp sea breeze and fragrant pine as you pedal. Stop at the Etang de Cousseau for a glimpse of the region's rare migratory birds.
Leaving the shaded pines for the road to Maubuisson, get ready for an uphill challenge as you steam along the rolling hills and take in the unique panorama. A two hour round trip for enthusiast cyclists looking to clock up the miles, the route is easily doable in an afternoon. Cruise along the coast and through the forest and finally downhill into Maubuisson. Park your bike in the village centre for a well deserved ice cream at 'Salon de la Glace' whilst the kids explore the beach­front playground. Well signposted, the road to Maubuisson is an easy, flat ride until Carcans Plage. Thereafter, the terrain gets more challenging. Hire hybrid bikes in Lacanau.
The lake is dotted with water sports companies offering everything from windsurfing to kayaking. You shouldn't need to book in advance even at the height of summer.
Where to stay

Les Bruyères Holiday Village, Lacanau | © vtf-vacances.com
VTF Les Bruyères
A rustic collection of stilted cabins set back in the forest, VTF Les Bruyères is situated within easy cycling distance of Carcans and Lacanau Océan. With the call of native cicadas for company, the individual chalets provide a relaxed haven, far from the hustle and bustle of the Lacanau beach front.
Situated on the main cycle path that connects the two seaside towns, Les Bruyères is a rustic woodland retreat away from the bright lights of Lacanau. A relaxed affair, accommodation at the resort is fully furnished with all the amenities for a self-catered stay, although the site does have a restaurant and a heated pool. The ideal setting for an action packed getaway for couples and families, find some solitude in this simple, isolated woodland retreat.
Choose from a range of chalet options differing in capacity and catering styles. The centre offers a range of outdoor activities and a free child care service during the day. Bike hire can also be organised at a competitive rate.
Les Bruyères, 33121 Carcans-Maubuisson. Tel +33 (0)5 56 03 31 16.

Eden Club private villa accommodation in Lacanau | © estivel.com
Estivel – Eden Club
Looking out onto the beautifully tended lawns of the local golf course, Eden Club holiday rentals offer a slice of the high life only minutes from the beach. Providing stately­style homes for large families and big groups, rentals are a stone's throw from the region's premier golf course. Surrounded by thick pine forests and popular cycle paths, Eden Club holiday homes are a secluded treat in a dream house just minutes from the beach. Boasting access to the neighbouring 18­ hole golf course, the small estate of 20 villas all include a spacious living/dining area, a personal terrace with BBQ, a large family pool and all the mod­cons of a family home. Part of a larger rental scheme that includes beach front apartments and similar accommodation options further afield in Hourtin and Carcans, Eden Club is a great holiday alternative at competitive prices.
Eden Club villas at Lacanau ocean are within 2.5 kms of the beach and amenities. The resort offers attractive prices & discounts outside July & August which make Eden Club even more affordable. Access to the neighbouring golf course isn't included as part of the package, daily and weekly passes can be added to your stay as a supplement.
Eden Club, Route Du Baganais, 33680 Lacanau Océan, France. Tel (0)5 57 14 20 88.
La Renouée – Bed & Breakfast
A intimate bed and breakfast, La Renouéé is a charming little gem found right in the centre of Lacanau. A thrifty delight at only €80 per room, a cheap and cheerful stay at this popular 'chambre d'hôte' is hosted by the bubbly, Madame Houdeau. A long serving B&B veteran and fervent Lacanau ambassador, Madame Houdeau is happy to let you into Lacanau's hidden secrets and resident hotspots off the beaten track.
A peaceful and inviting atmosphere, dine with the lady of the manor as she serves up regional delicacies or take your stay at your own pace, taking advantage of the heated pool and complimentary, home­made breakfast. Lovingly prepared with a family feel, the small but perfectly sized rooms are a happy medium between value for money and friendly hospitality.
A cheeky little weekend treat or romantic retreat, La Renouée offers budget style accommodation with all the extras that make it value for money. Not really designed for families or big groups, this B&B is a comfortable rest stop when exploring the region.
La Renouée, 1 rue Pierre Lavergne, 33680 Lacanau, France. Tel +33 (0)5 57 70 57 62.

Glamping in Lacanau | © lodginglelac.com
Lodging Le Lac
Trying to get 'at one' with nature without the constant search for AWOL tent pegs and an incessant mist of insect repellent. Thankfully, the dastardly duo behind Lodging du Lac know just how to do it in style. Offering themed rustic accommodation ranging from contemporary tree houses to luxury canvas tents, camping at this small wooded clearing is five star all the way.
Combining all the glamour of a hotel with the raw character of the historic pine forest, accommodation at the boutique resort takes bivouacking to another level, teaming chic furnishings with reclaimed pine from felled native trees. A short walk from the lapping shores of Lacanau lake, stroll down to the calm water's edge and try your hand at a bit of sunset SUP yoga, or squeeze in a quick gym session at their outdoor training centre.
Most accommodation comes fully equipped for self catering, but their on­site cocktail bar and Moroccan­themed restaurant are worth a try too. Stylish four­man tents start at around €100 with a special VIP package including spa access costing €150. Caravans and traditional tents are also welcome, and with much lower rates. All amenities are available onsite including shower facilities and BBQ areas.
Lodging Le Lac, 30, avenue de la Plag, 33680 Lacanau, France. Tel +33 (0)5 56 03 00 26.
Where to eat
Blue sky over Beach Rock Burger in Lacanau | © beachrockburger.com
Beach Rock Burger
A firm favourite with hang­ten surfers and young trend­setters, Beach Rock Burger is a laid­back burger bar for the young at heart. The relaxed surf shack is home to one of the juiciest burgers on the strip, cooked to a stereotypically French light pink and served with mega chunky home­made chips, Beach Rock Burger is more than fast food; a buzzing snack stop during the day, by night the mood gets more upbeat as locals and tourists congregate at the open air bar to swap the day's surf stories and chow down with the family. Run by a team of talented and plucky beach babes and salty surfers, burgers at the small, friendly restaurant are a mix of traditional dishes and creative mash ups like the succulent Angus beef burger with secret 'Grenade' sauce. Open till late during the long summer season, grab a pint, pull up a chair and tuck into a no­nonsense treat at Beach Rock Burger.
2 rue Emile Baudoux, Lacanau. Tel +33 (0)9 80 94 23 29.
[hr]
Le Kayoc
A traditional French bistro set at the water's edge, Le Kayoc is purpose built to offer diners the best view of Lacanau's golden sunsets. Clink glasses on the bustling terrace and watch local surfers dive under the breakers, riding barrels into shore. Offering a range of locally­caught seafood platters and tapas nibbles, dinner at Le Kayoc is 100% home­made, reinventing traditional fresh fish dishes with an imaginative, passionate menu curated by long serving chefs. Taste beautifully presented artisanal dishes like Thai gambas prawns and beef carpaccio whilst you take in the panoramic views way out to sea. Reasonably priced, Le Kayoc offers a range of tasting menus that are a great way of savouring local produce, regional specialities and seafood caught by neighbourhood fishermen. Open non stop from May till early autumn, sit back, relax and take your seats for the best sunset on the strip.
2 Allée Pierre Ortal, 33680 Lacanau. Tel +33 (0)5 56 03 20 75.
[hr]
Le Bistrot des Cochons
Arguably the best restaurant south of Cap Ferret, Le Bistrot des Cochons is a little backstreet secret coveted by international food buffs and native devotees. A friendly, bustling bistro off the beaten tourist track, food at this little known eatery is inspired by classic French cuisine, elevating well­known dishes to gastro style quality. Quaint and charming, the refurbished traditional villa stays true to its rustic roots with its comfortable reclaimed furnishings, antique oddities and wine bottle chandeliers. With startling high standards for both food and wine, Le Bistrot des Cochons redefines fine dining with their tempting regional delicacies like suckling pig and salmon confit, all presented to perfection. A real number one for locals and inquisitive foodies, savour a taste of the Medoc, reinterpreted for a contemporary palate.
1 Rue du Dr Darrigan, 33680 Lacanau. Tel +33 (0)5 56 03 15 61.
[hr]
La Cabane
A popular transcontinental cuisine thanks to the rockin' waves that pull surfers from the shores of Lacanau to Bali's surf hotspots, authentic Balinese fare is a regular fixture on the Atlantic coastline, but debatably, none do it better than the creative patron behind La Cabane. Inspired by his travels, Cedric and his team have whipped up their own brand of fusion food; a south east Asian voyage from French Polynesia to Madagascar, interpreted with a sophisticated French touch. Indonesian styled throughout, the dark stained wooden interior is a charming, creative ode to the pacific with intimate Balinese huts outside ­ perfect for big family gatherings. Priding themselves on elevating the art of cuisine, dishes at La Cabane are inventive and flavoursome, capturing the essence of the islands in every meal.
19 Avenue du Général Leclerc, 33680 Lacanau. Tel +33 (0)5 56 03 19 15.
[hr]
Where to party

Cantabria Cocktail Bar, Lacanau-Océan | © OT Médoc Océan
L'Apérock Café
A small surfer run and owned seasonal bar shaded by the dunes at Carcans beach, L'Apérock Café is renowned for its rowdy 'Lightning Bolt' sponsored parties and regular drop­ins from surf's biggest names. A young, relaxed sunset spot to listen to neighbourhood talent and soak up the atmosphere, the quaint cabin is owned by local legend, surf instructor and semi­pro veteran, Fabrice. A short walking distance from the beach, the bar­cum­beach shack oozes surf vibes and good times as shaka­throwing dudes prop up their boards and hang ten for a quick post­surf beer. A great pit stop on the way back from a cycle tour to Maubuisson, L'Apérock Café is the ideal place to kick back in a deck chair with a mojito and a cured boar charcuterie, watching the sunset over the wild sand dunes.
6 Avenue de la Plage, 33121 Carcans, France.
Cantabria
One for the night owls and cocktail lovers, Cantabria is a lively, Cuban themed Bacardi bar, minutes from the centre of Lacanau. Serving lashings of rum until the early hours, it's no surprise that the Cuba Libré is the house special; open until 2am, Cantabria is an upbeat and sometimes uncontrollable force on the busy strip, casual drinks can easily turn into all nighters as local djs pack out the dance floor with hip shaking reggaeton tunes. Full of late night­loving locals, people pack into the small, rough and ready bar to savour creative and traditional cocktails from the irreverently cool barkeep. A popular name on the Lacanau after­dark scene, Cantabria regularly hosts Cuban­inspired nights and Bacardi parties that evolve into a standing­room­only style affair, welcoming in tomorrow with gratuitous tabletop dancing and some rum­fuelled memories!
14 Allée Pierre Ortal, 33680 Lacanau, France.
Café Maritime
The perfect retreat from the blistering mid­summer heat, Café Maritime is a second storey oasis perched on the seafront. Set in an unassuming yet grand building, right in the heart of Lacanau's busy strip, Café Maritime is a newly inaugurated beach bar boasting a fresh vibe and cool breezes off the Atlantic. Blessed with beautiful views as far as the eye can see, the contemporary hang out offers a unique lookout to watch the Lacanau 'Sooruz Pro' surf competition, far away from the madding crowd beach­side. Embracing a California beach­feel, the panoramic bar is a playful mix of reclaimed driftwood, mounted surfboards and their infamous strawberry 'rum arrangés'. Offering a jam packed summer schedule of early evening concerts, jam sessions and acoustic sets, grab a frozen margarita and take your place on the breezy outdoor terrace.
9­ Boulevard de la Plage, 33680 Lacanau, France.
Le Mulligan – Bar Pub Lacanau
Like most tenacious tourists, staying away from Irish­-themed bars is a great rule of thumb, which, in the case of Lacanau's Le Mulligan, should be completely ignored. An exception to the rule, Le Mulligan is jam packed with amazing talent, lively clientele and the promise of a great night out. The type of place where you can dance on the bar until sunrise, evenings at the small watering hole are loud and proud.
With no two nights ever the same, evenings differ from soulful melodies on the terrace to rampaging drink marathons and late night lock ins. A true champion of home­grown talent, Le Mulligan showcases stars on the rise and local favourites that can differ from sweetly singing beach babes to hard­core dj sets. A multi purpose watering hole at the centre of the community celebrating everything from World Cup victory to home­grown surfer success, don't be fooled by Le Mulligan's meagre exterior, a friendly, bubbly atmosphere awaits inside.
6 Boulevard de la Plage, 33680 Lacanau, France.
Please leave a comment below if you need specific advice for your trip to Lacanau, or if you have any recommendations to help us improve this guide. Happy holidays!
About the author
Self-confessed foodie and outdoor sports aficionado, Aimée Whistler has been scoping out hidden gems across France for over five years. From shredding backcountry powder to savouring the finest backyard cuisine, get first-hand suggestions from Active Azur's most committed Francophile.

You may also like...