Briançon Serre Chevalier – Travel Guide, Activities & Accommodation
Briançon Serre Chevalier – An Active Holiday Guide
Perched at 1,350 m above sea level in the Hautes-Alpes, Briancon is a picturesque mountain town in a spectacular setting. Enjoy stunning views of the Vauban Fortifications, the snowcapped Ecrins Peaks and Vallée de la Clarée, one of the 'must see' Grands Sites de France.
HOLIDAYS | HIGHLIGHTS | ACTIVITIES | ACCOMMODATION | GALLERY
Thrill-seekers will be in their element here with summer mountain sports, air sports and winter sports all on offer. Mountain biking, road cycling, hiking, rafting, kayaking, canyoning, rock climbing, paragliding, skiing, snow kiting, ice climbing, you name it you can do it in Briançon, and all with a backdrop of jaw-dropping beauty.
Being the highest city in Europe, a visit to Briançon is one to tick off the bucket list. The drive up to Briançon is dramatic in itself with hairpin bends skirting sheer drops and tumbling waterfalls. Snow-capped peaks, thick forests and blue sky inspire you to breath deep and enjoy the outdoors. With so much to see and do, Briançon is a perfect destination for an unforgettable active holiday.
---
Active Holidays in Briançon
We've teamed up with the best active holiday companies to help you organise an unforgettable trip to Briançon Serre Chevalier:
---
Briançon Serre Chevalier Visitor Highlights
This is box title
Vallée de la Clarée
Heading north-east out of Briançon on the Route d'Italie the mountain scenery is breathtaking. On the road up to Val-des-Prés you enter the Vallée de la Clarée, surely a contender for the most beautiful valley in France. The crystal clear waters of the Clarée river carve their way through the jagged peaks of the Massif des Cerces. Hiking, mountain biking, climbing and kayaking are all popular activities in La Clarée. Camping Huttopia has a range of accommodation right on the river.
---
Serre Chevalier Ski Resort
Enjoy 250 km of pistes at the large ski-resort of Serre Chavalier Vallée Briancon. Bordering the Ecrins National Park in the wild Oisans region of the French Alps, the Serre Chavalier valley stretches for 15 km from Briançon to Monêtier-les-Bains. Around the Alpine town of Briançon, you can explore picturesque villages like Chantermerle, Villeneuve and Monêtier-les-Bains. Summer activities include hiking, mountain biking, climbing, wild swimming, and paragliding.
---
La Télécabine du Prorel
Running from July to August in the Summer, the La Télécabine du Prorel is a cable car you can catch a ride from Avenue Rene Froger, up to Le Prorel – one of the highest points of Le Grand Serre Chevalier mountain range. From the summit of 2556m, take a stroll while enjoying panoramic views over Briancon.
---
Vieille Ville
The Vieille Ville's narrow streets are great for ambling. The main street, la Grande Rue, is also known as the Grande Gargouille (great gargoyle) because of the drain that gushes down the middle of it. There are fountains spraying everywhere in the old part of town. From Avenue Vauban you get spectacular views over the snow-capped peaks of the Ecrins national park.
---
Fort du Chateau
The 18th-century Castle Fort sits imposingly above the Vieille Ville. During summer, guided visits can be organised via the tourist office. In recent years the fort has hosted the Gravity Gates MTB event where downhill riders pitch their wits against an urban downhill track in a unique setting. Fast and steep with huge jumps, it's not for the faint hearted.
---
Outdoor Activities in Briançon
Briançon is an outdoor sports Mecca of the Southern Alps.
Mountain Biking | Road Cycling | Hiking | Rafting | Canyoning | Rock Climbing | Via Ferrata
Paragliding | Skiing & Snowboarding | Snow Kiting | Ice Climbing
In summer, rafting, mountain biking, rafting, canyoning, rock climbing and paragliding can all be organised through local operators. In winter, there's skiing on the slopes of Le Grand Serre Chevalier, the mountain range that stretches from Briançon to Le Monêtier-les-Bains, 15 km to the north.

Mountain Biking
XC mountain biking in the Serre Chevalier valley | © Rémi Fabrègue
The forested valleys and mountain ridges surrounding Briançon are great for mountain biking. For beginners and families, there are good tracks following the rivers along the valley floor. For more experienced riders there's the epic Balcons de Serre Chevalier and Chemin du Roy cross-country trails. A highlight for Enduro riders is the ride down from the Col de Granon into the Vallée de la Clarée. Downhillers can head to the bike parks of Serre Chevalier, Puy-Saint-Vincent and Les 2 Alpes.
Serre Chevalier
Ride hundreds of kilometres of outstanding trails at the Serre Chevalier bikepark. There's everything from hair-raising downhill tracks to epic cross-country singletrack and Enduro trails. All levels are catered for from beginners and families to gravity stoke addicts. Experienced riders can rent bikes and strike out on their own, whilst beginners in need of guidance can join an organised tour.
Check out our guide to mountain biking in Serre Chevalier.
Montgenèvre
The Montgenèvre bike park covers an area from 1860 m to a whopping 2760 m in altitude. Choose from 15 mountain bike trails, including 4 enduro and downhill tracks. Beginners and experienced riders can tackle trails of all levels including; green, blue, red and black tracks and 2 discovery areas.
Check out our guide to mountain biking in Montgenèvre.
Regional Parc du Queyras
South of Briancon, in the regional Parc du Queyras, you'll find 354 km of cross-country mountain biking trails. Plus there's a bike park with chairlift access to downhill and enduro tracks. Enjoy rides along scenic ridges, flowy singletrack descents and heart-pumping climbs. This is southern Alpine mountain biking at its best.
Check out our guide to mountain biking in the Queyras.
---
Road Cycling
Taking on the Col d'Izoard cycle climb | © Flickr – will_cyclist
Amongst roadies, Briancon and its surrounding cols need no introduction. There's a huge amount of great riding for the road cycling enthusiast and it's little wonder why this is a regular stop on the Tour de France. High altitude and steep, this is lung-busting terrain, but the sunshine, awe-inspiring scenery and epic descents more than make up for the thigh burn. Pedal your way up endless switchbacks alongside snow-capped peaks and tumbling glaciers and look down on picturesque villages nestled in the valley below.
Col du Galibier (2645 m)
The Col du Galibier is one of the most stunning passes in the Alps. You will need all your energy to conquer this climb, but will reap great rewards at the top with views of glaciers and jagged peaks of the Ecrins National Park.
Col d'Izoard (2361 m)
Experience contrasting landscapes on a road cycle climb to the Col d'Izoard. A notorious ride, your ascent will be through magnificent forest of larches and the descent will pass by the 'desert creek', which some say resembles the moon!
Col du Granon (2413 m)
Cycle the Col du Granon, to experience where some of the legendary greats like Eddy Merckx, Bernard Hinault, Fausto Coppi and many more may have rode. Having been part of the Tour de France, you can experience a ride of a lifetime with exquisite views over the Valley of Guisane, the Meije, the Barre des Ecrins and the Pelvoux.
Col du Lautaret (2058 m)
The 27.5 km ascent to the Col du Lautaret is another epic ride, taken on by many of the greats in the Tour de France. After all your efforts, enjoy a well-deserved rest at the summit in one of the many places to drink and eat.
---
Hiking
Hiking beneath the Pointe de la Saume | © Flickr – D.Goodson
With over 370 km if hiking trails to discover in Serre Chevalier alone, Briancon is a great place to be based for a walking holiday.
There are 3 GR (Grande Randonnée) multi-day treks that cross the region; the GR50 – Tour du Haut Dauphiné, the GR54 – Tour des Ecrins, and the GR5 which goes from Briançon to Nice.
Serre Chevalier is also on the celebrated Via Alpina which starts on Italy's Adriatic coast and winds its way through the Alps and back down to Monaco on the Med.
Other good walks include the Tour du Lac du Combeynot in the Ecrins National Park and the famous Chemin du Roy, overlooking the valley from Le Lauzet to Granon. There are also a number of lakes that are good to hike up to, accessible either from the Serre Chevalier Valley or the Vallée de la Clarée. These include, Lac de l'Oule, Lac de Cristol, Grand Lac, and Lac de la Douche.
The Queyras Natural Regional Park to the south has more fantastic walking.
---
Rafting & Kayaking
Rafting the mighty Guisane River | © Vincent Trenson
Briançon's location at the junction of 4 valleys makes it one of the French Alps' premier paddling destinations. There's an excellent choice of whitewater from class 2+ to class 5 within a short drive of the centre. Popular stretches of river for rafting and kayaking include the Upper and Lower Guisane, the Romanche and the upper Durance. You'll find companies running commercial trips on all the main descents. Most runs are pretty challenging making them ideal for thrill-seekers looking for a blast of adrenaline.
There are loads of rafting companies operating around Briançon. The Upper and Lower Guisane are the most popular runs and almost always have enough water to paddle. In early summer head up to the beautiful Vallée de la Clarée and paddle the mellow class 3 lower Clarée as a warm up and the solid class 4 middle Clarée once you've got your confidence up.
Another early season highlight is the Onde, a beautiful technical forest run to the south of Briançon. From July onwards there's not enough water, but later in the summer, the Romanche and the Vénéin, 2 full-on alpine boulder blasting rivers come into their own.
In hot weather, the glacier fed Gyr should be running. It's a short but technically difficult Alpine roller-coaster of a run.
---
Canyoning
Canyoning at the Fournel canyon near Briançon | © Auberge Saint Martin
Canyoning enthusiats will love the weathered landscaped in the Canyon du Fournel. Located above the Argentiere la Bessee in the Valley of Fournel, this canyon offers a variety of rock faces and aquatic areas. Expect to slide, jump, swim and descend into craggy canyons and enjoy plenty of scenic views. Being a beginner level canyon, you will need 1.5-2 hours to complete the experience.
---
Rock Climbing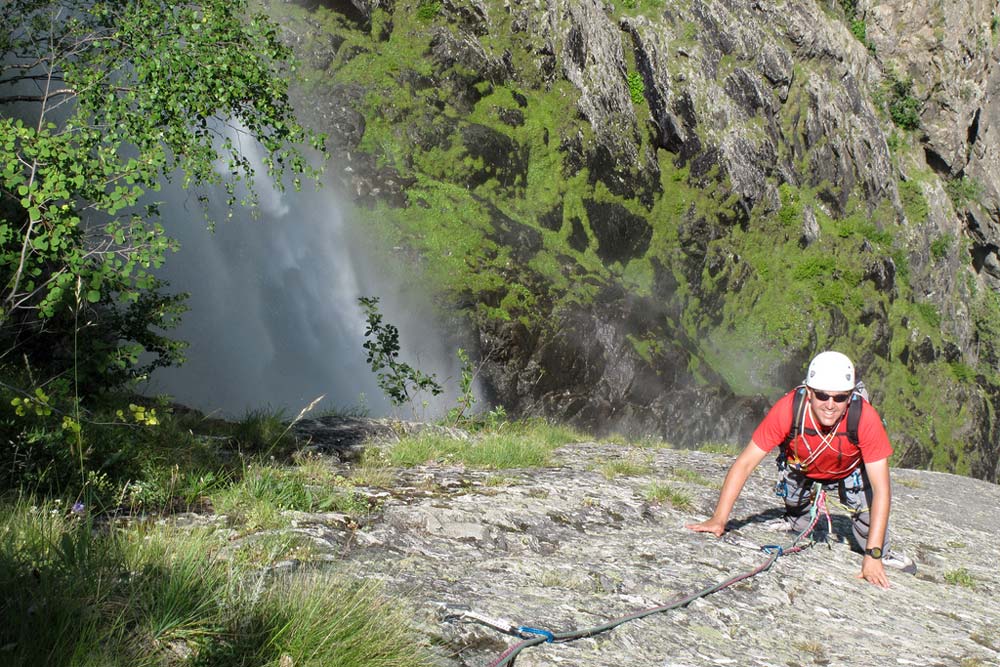 Climbing at Alpe du Pin in the Ecrins National Park | © Flickr – Bob
If you're into climbing and you're lucky enough to be in Briancon at the end of July, you'll be able to watch the climbing greats battle it out at the IFSC World Cup. Drawing in around 10,000 spectators every year, this free event is a must see and you may even pick up some tips from the pros.
With so many great climbing spots to choose from, Briancon is a top spot for a climbing holiday. The Hautes Alps is renowned for its sunny weather, and the length of the climbing season reflects this. The imposing 4000 m peak of the Massif des Ecrins dominates this area, alongside many other 3000 metre plus peaks attracting rock climbers and mountaineers from all over Europe.
In the Durance Valley there are around 75 crags, with routes graded for all abilities. If bouldering is your thing, and excellent bouldering near Ailefroide.
If you want big wall climbing, head to La Croix de Toulouse for a steep 390 m ascent and 800 m of length. On the way up, enjoy magnificent views over the Briancon Valley which only gets better the higher you go!
---
Via Ferrata
Matt Watkins on the Freissinières Via Ferrata near Briançon | © ActiveAzur.com
Briançon is the birthplace of via ferrata in France. There are 11 routes in close proximity to the town. There are 2 routes in Briançon itself, 3 routes in the Guisane valley, 2 routes in Argentière-la-Bessée, 2 routes in Puy Saint Vincent and 1 in Freissinières.
Via Ferrata de l'Arète de la Schappe in Briancon provides a great introduction to the sport. At 175 m in length you can enjoy some great views but without the commitment of a longer route.
If you're looking for a challenge, head to the Via Ferrata de la Croix de Toulouse in Briancon. 800 m in length, the climb is lengthy but you're rewarded with an exceptional panorama over Briancon.
The Via Ferrata du Rocher Blanc in Serre Chevalier Chantemerle is good for mixed ability groups as there are two routes suitable for different levels. Choose the route on the right for an easier time, or go left for a more physical and aerial challenge.
---
Paragliding
Paragliding in Saint-Chaffrey in Serre Chevalier | © Flickr – Gerard Borel
Fly high above a snowy peak, catch a thermal up to cloud base and go wing to wing with the eagles – that's paragliding in Briançon and the Serre Chevalier Valley. There are lots of dedicated summer and winter take off and landing sites throughout the Serre Chevalier Valley, in the Ecrins National Park and at the Col du Galibier.
If you've always dreamed of giving paragliding a go, you're in the right place, there are loads of companies offering tandem flights. The cost is around 95 euros for a standard flight or you can pay a bit more for an acrobatic or proximity flight. If you decide paragliding is your thing and you want to take up the sport, you'll find paragliding schools offering intro courses or a complete series of lessons. Kids from age 7 can go tandem but you need to be at least 14 for lessons.
---
Skiing & Snowboarding
Downhill skiing in Serre Chevalier Villeneuve | © ESF Serre Chevalier
If you're heading to Serre Chevalier Vallee Briancon from December 2017 to April 2018, you can enjoy 410 hectares of skiable terrain which is one of the largest ski areas in Europe. With 81 tracks to choose from, you can experience expert slopes at high altitudes, easier trails in the forests of Larches and fun, discovery play areas for younger members of the family.
Briançon is located near some of the best ski resorts in the southern French Alps. Serre Chevalier, which links 13 villages is the largest ski resort in the southern French Alps and there's direct access from Briançon via the Télécabine du Prorel. The resort offers some great skiing for all abilities with tree runs, lots of varied terrain and a massive natural snow park.
Within an hour's drive from Briançon, you also have Puy-Saint-Vincent, Les 2 Alpes and off-piste hotspot La Grave, which can all conveniently be included within the one ski pass.
Check out our guide to skiing and snowboarding in Serre Chevalier
---
Snow Kiting
Snow Kiting in Serre Chevalier | © kitenews.fr
Experienced and beginner snow kiters alike, can enjoy the thrilling feeling of snow kiting at the Kite Legende school Briancon. All skiing equipment can be arranged at the school, along with first class training and advice on conditions.
---
Ice Climbing
Ice climbing in Serre Chevalier | © ice-climbing-ecrins.com
Briançon is a climbing and mountaineering Mecca and that includes ice climbing. Equipped with a pair of ice axes and crampons and tethered to the ice wall you'll use a combination of fitness and technique to make your way to the top. Although ice climbing appears hugely challenging, the sport is actually quite accessible and there are plenty of schools that can help you start out and progress safely.
The most popular spots for ice climbing near Briançon and Serre Chevalie are the Fournel and Freissinières valleys and La Grave at the northern end of the Ecrins National Park. The Fournel Valley has around 100 recognised routes for intermediate and advanced climbers. Freissinières has some easily accessible top roped routes that are suitable for beginners as well as vertical multi-pitch routes for experts. La Grave has everything from short beginner routes to advanced routes.
To watch the professionals in their element, head to L'Argentiere in the second week of January of the Ice Climbing Ecrins event. Hundreds of ice climbers from all over Europe flock here to take part. It's not just for the professionals though, beginners can enjoy taster sessions throughout the event. Films, talks and displays are held in the evening to keep everyone entertained.
---
Accommodation
Here's a few recommendations for places to stay in and around Briançon. La Salle Les Alpes, Le Villard Laté, Saint-Chaffrey and Val-des-Prés are all ideally located with easy access to the outdoor activities in the Serre Chevalier valley.
This is box title
Camping Huttopia – Val-des-Prés
From 35 € per night
Camp by a river in a beautiful forested valley just 6 km outside Briançon. An ideal destination for families or groups of friends, Huttopia La Clarée offers a range of accommodation options and is a great location for outdoor sports, including hiking, climbing and kayaking.
Check availability | Go >
Rock Noir & Spa – La Salle Les Alpes
From 120 € per night
Located in the heart of the Serre Chevalier valley 8 km from Briançon and 20 m from the main ski lift, Rock Noir & Spa is an ideal base for activities such as mountain biking, kayaking, canyoning and rafting. The rooms are stylish and the restaurant is top quality.
Check availability | Go >
---
#serrechevalier Instagram Photos
This error message is only visible to WordPress admins
Error: No posts found.
Error: Hashtag limit of 30 unique hashtags per week has been reached.
Error: Hashtag limit of 30 unique hashtags per week has been reached.
---
Please leave a comment below if you need specific advice for your trip to Briançon Serre Chevalier, or if you have any recommendations to help us improve this guide. Bonnes vacances!
---
You may also like...