Tour du Mont Blanc Mountain Bike Trip

A Guide to the Tour du Mont Blanc MTB Route
The Tour du Mont Blanc (TMB), or Three Countries Tour is a classic multi-day, high-altitude mountain bike tour. 4-5 days and 160 km from Chamonix, around the Mont Blanc massif, through France, Switzerland and Italy, and back to Chamonix. An unforgettable mountain biking adventure!
The MTB route is quite close to the walkers route, but uses trails more adapted to mountain biking. Typically walkers will do the circuit anti-clockwise, whereas mountain bikers prefer to go clockwise thereby avoiding the steepest climbs. The trip takes you through 3 countries – France Switzerland and Italy and takes 4 to 5 days. You can add on an extra day and extend the trip to include the spectacular Lac de Roselend.
In terms of the distance covered, the days are well balanced with approximately 45 kilometres of riding per day. And, depending on the route profile, height gain averages around 1500 m per day.
---
Watch this: Matt Hunter Tours Mont Blanc
---
The scenery is breathtaking with glaciers, 4000 m summits, lakes and waterfalls. Round every corner you get a different view, each worthy of being printed on a postcards.
The tour starts and finishes in Chamonix at the foot of the mighty Mont Blanc which is Western Europe's highest peak at 4810 m. You'll ride the Martigny Valley into Switzerland, on to Aosta Valley in Italy and back Chamonix in France to complete the loop.
---
TMB Highlights
Amazing panoramic views of the Alps and the Mont Blanc range.
Every day there's an epic and unforgettable descent. The downhill from Col de la Seigne 2516 m is probably the best descent of the week. It's fast and flowing singletrack with multiple lines possible, with nice gradient that's not too steep and not too technical, so you can really let it fly.
The descent down into Saint-Gervais-les-Bains through the forest and the Le Parc Thermal is painfully picturesque.
The Tour du Mont Blanc is an intense mix of all different types of riding. Sometimes it's the smoothest, fastest trails and sometimes it's giant chunky rocks. Keeps it interesting for sure!
Matt Hunter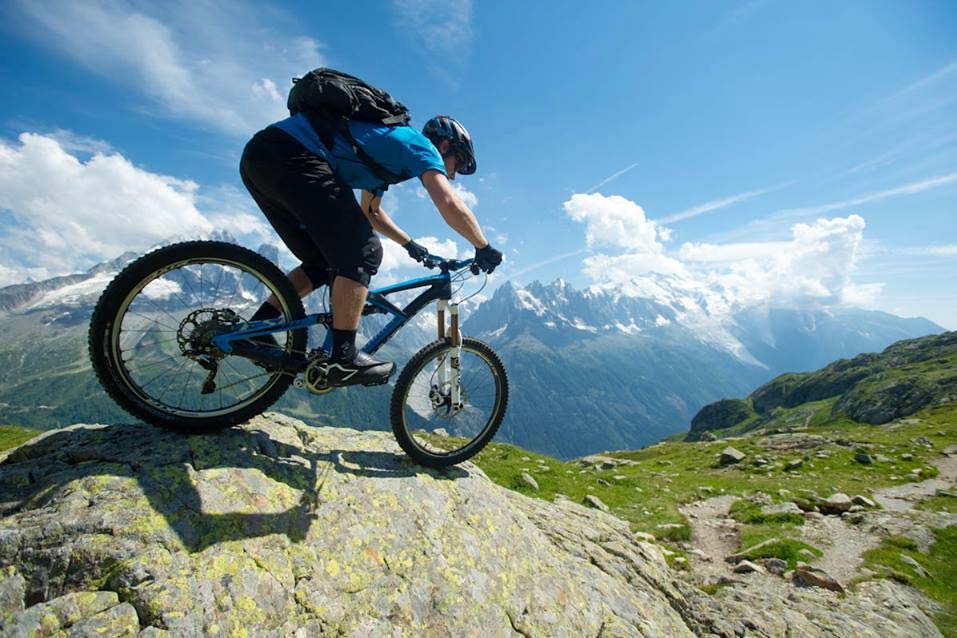 ---
Tour du Mont Blanc MTB Holidays
Our mountain biking holiday partners never stop exploring the thousands of trails the Alps and the Mont Blanc region have to offer. You can decide if you'd like to do the trip guided or self-guided. A guide will share their knowledge of and passion for the mountains and make sure you ride the best trails and best descents so you have an unforgettable mountain biking holiday.
---
Tour Accommodation
Accommodation is a mix of refuges with dormitory-style rooms, like the Rifugio Monte Bianco in Val Veny near Courmayeur, and more comfortable hotels. One of the best places mainly because of the stunning views over the lake and mountains is Le Chalet de Roselend on Lac de Roselend. If you go on an organised tour, you can benefit from vehicle support, so you only need to carry essentials during the day.
---
How fit do you have to be?
The TMB is hard. It isn't a trip for beginners. You need to be fit and you need to be mountain biking regularly throughout the year (once a week minimum). You also need good bike handling skills and able to ride steep technical sections of singletrack. Having said that, you do get fitter over the course of the week and you'll find that your bike handling skills improve too. Some riders choose to spend a couple of days in the Chamonix Valley before the trip starts to warm up the legs and get acclimatised.
---
What kind of mountain bike do I need?
The best mountain bike to use is a full suspension trail bike or enduro bike with 140 to 160 mm of travel and disc breaks. A bike like the Specialized Stumpjumper FSR 650b, Trek Fuel EX or the Lapierre Zesty AM will do the job nicely. You can hire a full-sus mountain bike in Chamonix for about 300 euros for 6 days. If you bring your own bike, make sure it's in good working order; you've got enough to worry about getting round this loop without having to think about your bike. When Chris Moran, author of Mountain Biking Europe, did the tour in 2010 he found it arduous – but his bike found it even tougher!
The Rocky trails are ripe for punctures, so get some decent tyres. We recommend Maxxis dual-ply High Rollers and some all-mountain inner-tubes. And, make sure you bring a half-decent bike tool kit, spare inner-tubes and break pads.
---
What's the best time of year to ride the TMB?
September is probably the best month to ride the Tour du Mont Blanc. The weather's still warm, without the intense heat of July and August and more settled than June, and there's far fewer walkers on the trails. October and November can also be good if the snow has yet to arrive. June can be good, but you can still get patches of snow at altitude and the possibility of heavy rain.
---
Tour du Mont Blanc Route Map
One of the best parts about the tour is that the whole time you're on it, Mont Blanc is right there. There's giant glaciers and rock peaks and insane views, and the whole time you're going "wow" … It's pretty stunning! Matt Hunter
---
TMB Suggested Itinerary
Each valley in the circuit has loads of trails, so there's a lot of possible routes. This 4-day itinerary is one of the most popular, but you can extend the loop and do it in 5 or even 6 days.

Bridge crossing on the TMB | © france-bike-trips.com
The first night is spent in Forclaz near Trient in Switzerland, the second night in Val Ferret in the Aosta Valley in Italy, the third night in Les Chapieux back in France. The total vertical ascent is about 8000 m, but the itinerary can include a cable car on the first day.
Day 1 – Chamonix to Col de Forclaz (Hôtel du Col de la Forclaz)
You leave Chamonix and climb through the Chamonix Valley to Argentiere and Le tour on the Petit Balcon Nord trail. It's customary behaviour on the first ascent of any biking trip for fresh-legged riders to force the pace a little to see how the natural order of the riders in the group will settle. The TMB stamps its authority straight away and rewards those with a steady cadence over out-of-the-saddle power climbers.
After a packed lunch and a cable car to the top you're ready for the real riding to begin. The Le Tour cable car is the only assist on the entire ride, from here on in every metre climbed is under your own power.
Just 2 hours after leaving Chamonix, you'll reach the 2200 m Col de Balme at the top of the valley, and the Swiss border. You drop down into Switzerland on fast, open singletrack, a series of rocky, rooty switchbacks and an Alpine meadow traverse. It's technical riding and tempting as it is to let loose, it's a good idea to take it easy. When you look up from below and see the trail hugging a sheer rock drop, you'll understand why.
A long, grassy, winding climb brings you to a short, sharp road section up to your first night's refuge accommodation at the Col de la Forclaz, a historic trading route pass.
Day 2 – Col de Forclaz to Val Ferret (Refuge Elena)
Day 3 – Val Ferret to Les Chapieux (Refuge de la Nova)
Day 4 – Les Chapieux to Chamonix
---
Please leave a comment below if you need specific advice for your Tour du Mont Blanc mountain biking trip, or if you have any recommendations to help us improve this guide. Happy holidays!
---
You may also like...